Movies for Grownups Gala: A Very Starry Night
By Bill Newcott, February 11, 2014 05:06 AM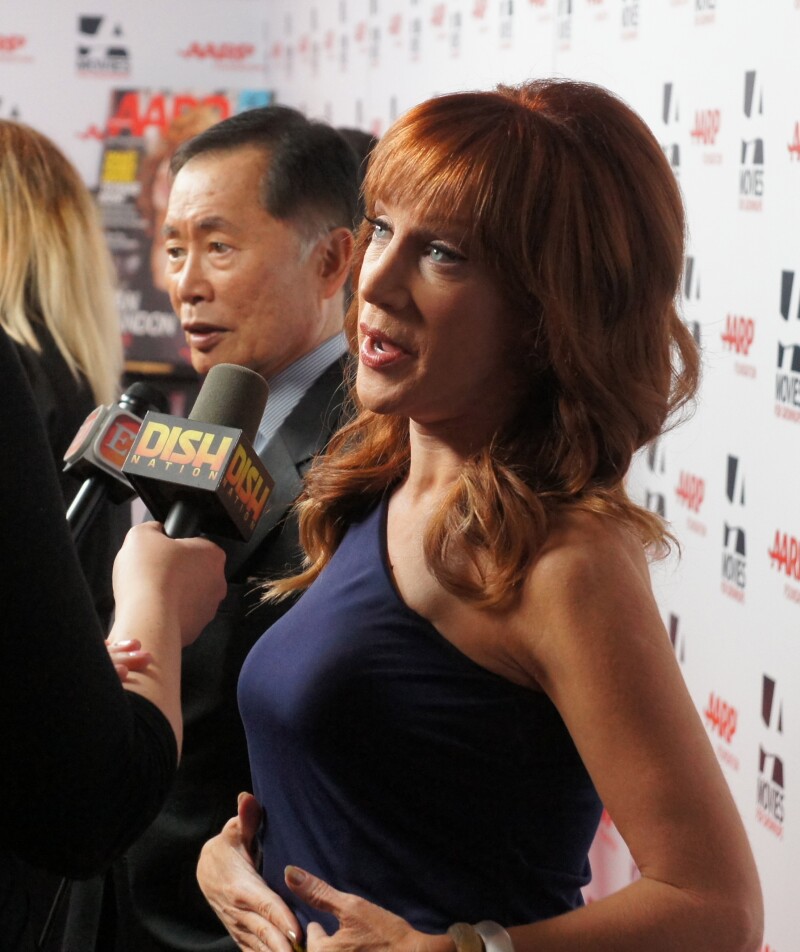 It was a night for classic Hollywood star power to blend with the youthful glow of filmmaking's future as the 13th Annual Movies for Grownups Awards Gala unfolded in Beverly Hills, Calif., on Monday.

Nine Oscar hopefuls and a parade of entertainment legends took the stage at the Beverly Wilshire Hotel to celebrate Susan Sarandon, Lifetime Achievement Award recipient, and other winners of this year's awards, announced in the February/March issue of AARP The Magazine.

Along with celebrating movies made for the 50-plus audience, the awards dinner raised awareness for the AARP Foundation's work to relieve hunger among older Americans - which includes a partnership with L.A. Kitchen.

The evening was full of warm reunions such as the one among gala host-committee members Jane Seymour, Susan Blakely, Michael Nouri and Frances Fisher, and the celebration of friendships some formed thanks to the work they do in movies. Among the moments:

Lifetime Achievement honoree Susan Sarandon walked the red carpet with two of her three children, daughter Eva Amurri Martino and son Jack Henry Robbins.
Best Actor winner Bruce Dern paid one very cool tribute to his Nebraska costar Will Forte: "Outside of Jack Nicholson, Will is the best partner I've ever had!" Mighty high praise for a former Saturday Night Live cast member who had never before played a dramatic role.
Accepting the Best Grownup Love Story award, Enough Said writer and director Nicole Holofcener confided her own grownup love story: "I thought I was too cynical to write a love story," she confessed, "until I met ... you!" And she pointed to her boyfriend, Robert Frazen (who also edited the film).

Fighting words from Breakthrough Achievement winner, Last Vegas costar Mary Steenburgen: "I'm not even close to the expiration date on my dreams, and I appreciate AARP for recognizing that radical concept!"

"The movies need grownups," said Ted Danson, accompanying Steenburgen, his wife. "They need older actors to stand next to the young actors, so audiences will know which ones are the young actors."

Dern said that for his fans back in Nebraska, winning the Movies for Grownups Best Actor award for the movie Nebraska was the highest possible praise. "That's where the real people live," he said.
Steve Coogan: "It took four years to get Philomena to the screen ... that and a little help from Judi Dench."
Naomi Watts, a friend of Bruce Dern's daughter, actress Laura Dern, confessed she'd long had a crush on Bruce. "So that was a little weird," she said, adding, "but it was a talent crush!"
"I won something!" exclaimed director Lee Daniels, whose The Butler - winner of the Readers' Choice Award - was shunned by the Oscars, much to its admirers' dismay. Daniels paid tribute to his mother, who was home in Philadelphia: "When you honor me, you honor my mom; this is dedicated to her."

Morgan Freeman

Kathy Griffin paid tribute to her mother, too: Maggie, 93, came to the gala with her. "She is responsible for this!" said Griffin, striking a provocative pose.

Morgan Freeman said he loved the script for the Best Buddy Movie

Last Vegas

, but added, "Of course, when you get the phone call inviting you to make a movie with Michael Douglas, Robert De Niro, Kevin Kline and Mary Steenburgen - and oh yeah, you'll have to stay in one of the nicest hotels in Las Vegas - well, the answer to that invitation is always gonna be, 'When do I start?' "

Jon Turteltaub, director of Last Vegas, starring Freeman, Michael Douglas, Robert DeNiro and Kevin Kline, said: "This award should really go to everyone who worked on this movie, not me. Basically I showed up, and acted all director-y."
Nine members of this year's Oscar nominee club, who earlier in the day had attended a lunch in their honor hosted by the Motion Picture Academy, were present: Actress Lupita Nyong'o and director Steve McQueen (12 Years a Slave); director Alfonso Cuaron (Gravity); Dern and June Squibb (Nebraska); Julie Delpy, Ethan Hawke and Richard Linklater (Before Midnight); and director Lee Daniels (Lee Daniels' The Butler).

Best Director Cuaron (Gravity) stood at his seat and enthusiastically applauded Steve McQueen, director of the Best Movie for Grownups winner 12 Years a Slave. When a tablemate observed that one of the two would likely soon win the Best Director Oscar, Cuaron shrugged and said, "Or Alexander Payne ... or David O. Russell ... or Marty Scorsese!"
Photo credit: Bill Newcott



>> Sign up for the AARP Leisure Newsletter



Also of Interest



See the AARP home page for deals, savings tips, trivia and more



>> Get entertainment and dining discounts with your AARP Member Advantages.