Oscar Night: Grownups Get to Stay Up Late
By Bill Newcott, February 21, 2013 12:44 PM
Remember when the movie musical was dead? Well, Sunday night's Academy Awards telecast will be a resounding reminder that, in the immortal words of Dr. Frankenstein, "It's ALIVE!!"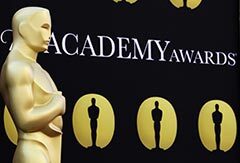 Most important for grownup movie lovers, this year's Oscar production numbers will recognize that for the past decade musicals have aimed themselves squarely at us: Les Miserables, Chicago, Hairspray, and Mama Mia! were all a far cry from the kid-centric days of Chitty Chitty Bang Bang and Barney's Great Adventure.

Not all of them will be singing and dancing, but among the night's performers, presenters, and recipients we'll get glimpses of many stars who've provided the movie musical soundtracks of our lives: John Travolta ( Saturday Night Fever and Hairspray), Richard Gere ( Chicago), Christopher Plummer ( The Sound of Music), Shirley Bassey ( Goldfinger), Nicole Kidman ( Moulin Rouge!) and, most emphatically, Barbra Streisand, whose last Oscars performance came 36 years ago, the night Rocky won Best Picture.

See Slideshow: Oscar Night 2013 - Red Carpet Stars & Style

2012 was one of the best years ever for grownup movies; such a good year, in fact, that while many of our own Movies for Grownups Awards favorites were overlooked in the major categories ( Quartet, A Late Quartet, Hitchcock, Bernie, Hyde Park on Hudson, and Trouble With the Curve among them) it's hard to argue with the list of nominees.

Here's my list of who should win on Sunday night (as opposed to who will win. Big difference):

Best Picture: Lincoln Steven Spielberg takes a guy we thought we knew and reveals him to us, as if for the first time.

Best Actor: Denzel Washington (Movies for Grownups winner), Flight In a career-crowning performance, Washington convinces us a pill-popping, boozing airline pilot can mask his addictions...while allowing us to see he's really flying on empty.

Best Actress: Emmanuelle Riva  Amour For those of us who fell in love with her as a beautiful young woman in Alain Resnais' Hiroshima Mon Amour (1959), Riva remains an irresistible force, even as a woman living out her last days. Riva, who turns 86 on Oscar night, is the oldest Best Actress nominee ever; 9-year-old Quvenzhane Wallis ( Beasts of the Southern Wild) is the youngest. But no child should ever win an Oscar. Grownups act. Children play-act.

Best Supporting Actor: Tommy Lee Jones Lincoln  The category is a 50-plus bonanza: Alan Arkin ( A rgo), Robert De Niro ( Silver Linings Playbook), and Christoph Waltz ( Django Unchained) would all be welcome faces behind the podium. But we give Jones the edge for his show stopping turn as the fiery Thaddeus Stevens.

Best Supporting Actress: Jacki Weaver (Movies for Grownups Winner), Silver Linings Playbook If not for her ever-optimistic character, we would give up hope for the troubled family in the first reel. While Robert De Niro and Bradley Cooper, as father and son, battle it out, we find refuge in Weaver's against-all-odds smile.

Director: Steven Spielberg (Movies for Grownups Winner), Lincoln  If anyone thought the boy genius had lost a step, this one puts that suggestion to rest for good.

Documentary: Searching for Sugar Man (Movies for Grownups Winner) As two South African men seek out the fate of their favorite Motown-based singer, a priceless tale of intergenerational respect blossoms.

Foreign Language Film Amour (Movies for Grownups Winner) The story of a couple living out their last months together is as beautiful, and difficult, as life itself.

The crack Movies for Grownups Oscars task force will be tweeting and blogging their fingers off on Oscar night. Join us here, or follow us on Twitter at #movies4grownups.

Here's our list of Movies for Grownups winners for 2012.






Credit: Amy Sancetta/AP