Remembering Jessica Savitch 30 Years After Her Death
By Alanna Nash , October 22, 2013 12:18 PM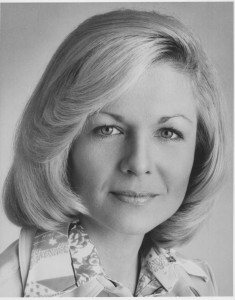 This week I'll travel from my home in Kentucky to stand at the spot in New Hope, Pa., where NBC News anchor Jessica Savitch (right) died 30 years ago tonight on the rainy fall evening of October 23. I'll be wearing one of her amethyst birthstone rings - a gift from her sister, Lori, whose website celebrates Savitch's legacy as a a groundbreaking TV news star of the 1970s and '80s.
Though I never met Savitch, I feel like I've known her half my life. To research my cautionary biography, Golden Girl: The Story of Jessica Savitch (1988), I interviewed hundreds of her friends, co-workers and family members. I'm in touch with many of them still.
>> Photos: Famous People We've Lost in 2014
I'm making my pilgrimage to the Delaware Canal - where Savitch drowned at 36 when a car driven by her date, 34-year-old New York Post executive Martin Fischbein, tumbled into its dark waters - because every woman in journalism owes her a debt of thanks.
A true pioneer in broadcasting, Savitch fought gender discrimination to land news-anchor jobs in Houston and Philadelphia. At age 30 she become the first woman to anchor the weekend news for NBC, where she also covered Capitol Hill.

Savitch's personal life was a mess - a divorce, the suicide of her second husband, a cocaine habit. Her colleagues considered her a prima donna. But none of that mattered when the cool blonde looked into the camera."

"On television, Jess was so much more than a reporter or anchor," says Paul Gluck, who worked with Savitch as a production assistant at KYW-TV in Philadelphia. (He's now a professor at Temple University, one of three colleges that offer scholarships in her name.) "She was one of nature's inexplicable phenomena - the human equivalent of the aurora borealis. Stunning. Substantive. Mysterious."
Indeed, Savitch struck such a chord that Gwenda Blair's 1988 book Almost Golden: Jessica Savitch and the Selling of Television News was made into a 1995 Lifetime channel movie starring Sela Ward and Ron Silver. Immediately after that feature aired, Lifetime also ran a documentary about her life, Intimate Portrait. And one year later my own book was made into the Touchstone film Up Close & Personal with Michelle Pfeiffer and Robert Redford .
The Savitch legend still casts reflections - some of them unexpected. Comedian Will Ferrell says he based Anchorman: The Legend of Ron Burgundy on Savitch's five-year pairing with co-anchor Mort Crim in Philadelphia. (The film's sequel, Anchorman 2: The Legend Continues, hit theaters in late December 2013.)
>> Get travel discounts with your AARP Member Advantages.
Savitch's distinctive delivery finds echoes today in the cadences of NBC stars such as Natalie Morales, Savannah Guthrie and Hoda Kotb. The only thing missing, says retired news director Tom Becherer, "is her sense of style. Now you see a lot of hair, cleavage, costuming and posturing. But to Jessica, the news was what was important - not her."
Jessica Savitch, who tragically lost her way leaving a country inn in Bucks County one stormy night, left behind what Gluck calls "a roadmap to excellence in broadcast journalism." And, certainly, a few lessons on life.
Photo: Courtesy Lori Savitch

Also of Interest

See the AARP home page for deals, savings tips, trivia and more