Tom Bergeron Hosts PBS July Fourth Show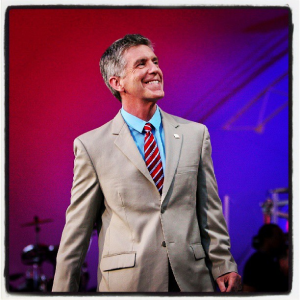 Tom Bergeron loves hosting live TV shows. No surprise, then, to hear him rhapsodize about his upcoming emcee duties for A Capitol Fourth on PBS; it's a super-sized version of his thrill of choice.
"To walk out on that stage on the West Lawn of the U.S. Capitol, in front of hundreds of thousands of people on the National Mall - and knowing you're being beamed to millions more around the world - is one of the highlights of my career," declares the man whose hosting prowess has earned him both daytime (Hollywood Squares) and prime-time (Dancing With the Stars) Emmy awards.
For this Friday's Capitol Fourth show, Bergeron leads a talent extravaganza that includes Frankie Valli, Patti LaBelle, Phillip Phillips, Jordin Sparks, Michael McDonald, Sara Evans, Kendall Schmidt, Kelli O'Hara, and The Muppets' Kermit and Miss Piggy.
>> Get travel discounts with your AARP Member Advantages.
"Kermit and I get along famously," deadpans Bergeron, "but I'll be honest, I've had some issues with Miss Piggy. I'm hoping it doesn't get ugly; she can be very temperamental."
The 33rd such televised Independence Day event, A Capitol Fourth features "so much that's going to be wonderful," says Bergeron. "It's the 200th anniversary of our National Anthem, and [five-time Oscar-winning composer] John Williams is going to conduct a special arrangement of it for orchestra and chorus. That will be a special moment in a special show."
Times are changing for Bergeron, who recently decided to end his 15-year run as host of America's Funniest Home Videos. Facing life as empty-nesters now that daughters Jessica and Samantha are grown, Bergeron and his wife of more than three decades, Lois, plan to capitalize on his freer schedule by traveling more. Retirement doesn't seem to interest the 59-year-old, however; he's open to "being surprised" by new work opportunities.
Dancing With the Stars, meanwhile, just keeps hoofing on. Does its appeal start to pale after 18 seasons? "No, I love it," says Bergeron. "We already touched on one of the reasons: It's live TV. And every cast brings its own personalities and peculiarities. This last season, happily, our ratings went up when a lot of reality competition shows were going in the other direction." (The new cast will be announced in late August.)
>> Sign up for the AARP Health Newsletter
Coincidentally, A Capitol Fourth will reunite Bergeron with several DWTS alumni - not just Kermit and Miss Piggy from Season 13, but Sara Evans from Season 3. And he looks forward to reconnecting with other Capitol guests in an entirely new setting: "I fly the L.A.-to-New York leg a lot," says Bergeron, "and Frankie Valli and I are on the same flights periodically. The last time I chatted with him, Jersey Boys was in production and Frankie had been visiting Clint Eastwood on the set. It'll be great to see him without breathing recirculated air on an airplane."
Photo courtesy PBS
Also of Interest

See the AARP home page for deals, savings tips, trivia and more