'Who Do You Think You Are?' Returns on TLC
Researching your family tree used to be a tedious, time-consuming project involving dusty paper records. The Internet age has changed all that. With so much information a simple search phrase away, and so many online services ready to help you track down and document your family history (for a fee, of course), genealogy is one of the booming businesses of the digital age.

Its appeal makes sense: A genealogy search pursues tangible family connections using the ethereal, high-tech connections of the modern age. Plus, the hunt can be addictive. The first discovery of new, surprising information - wait, so great-grandma was a burlesque dancer? - is as tantalizing as that first potato chip. Just try to stop after you've gotten a bite.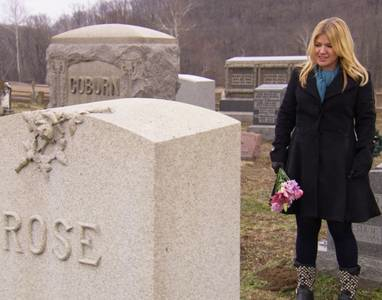 That's the premise behind Who Do You Think You Are?, the celebrity genealogy show that returns tonight at 9 p.m. on TLC for its fourth season. The first three seasons ran on NBC, but after the network canceled it, TLC, better known for Here Comes Honey Boo Boo, took it over.

Tonight's premiere features country/pop singer Kelly Clarkson on the trail of Isaiah Rose, her great-great-great-grandfather. After learning that he fought for the Union in the Civil War, Clarkson follows the breadcrumbs to reveal his fascinating story, and in the process comes to a better understanding of the family that shaped her. It's a particularly affecting tale, and it helps that Clarkson, who was raised alone by her mom following her parents' acrimonious divorce, has such a bubbly, relatable personality. She's easy to root for, and as she travels to tiny towns in Ohio and Georgia to research her past, it's clear she's genuinely interested.

Watch the trailer for tonight's episode.

"It's innate that you need family," Clarkson says at one point. "It's the coolest thing you can do, finding out where you come from."

The singer's feel-good factor is a very good thing, since at times the new episodes feel a bit like long-form ads for ancestry.com, the gargantuan genealogy site that is one of the show's main sponsors. But there's so much cool information to be found, and history to be learned - the night's most affecting sequence comes when Clarkson visits Andersonville Prison in Georgia, where her forefather was kept as a prisoner of war in deplorable conditions - those frequent plugs can be forgiven. You might just find yourself googling your own family name by the end.

Who Do You Think You Are? airs Tuesday nights at 9 on TLC. Other celebrities scheduled to appear during the fourth season include Christina Applegate, Chris O'Donnell, Trisha Yearwood and Cindy Crawford.