More Grandkids Poisoned by Grandparents' Medicine
By Candy Sagon, April 24, 2012 08:00 AM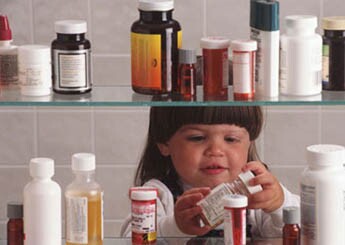 Accidental poisonings from medicine cause more emergency room visits for young children each year than do car accidents, and one big reason may be that grandparents often store their prescription drugs in places easy for their grandkids to reach, says a new national poll.

The University of Michigan Mott Children's Hospital recently polled parents and grandparents of children ages 1 to 5 about the presence of prescription meds in their homes and how the drugs were stored.

The poll found that the vast majority (98 percent) of grandparents of young children reported having medicine in their homes; 85 percent reported having prescription medications.

Nearly 1 of every 4 grandparents told researchers they store prescription medicines in easy-access ways, like easy-to-open containers or out in the open within reach of young children. Grandparents were also four times more likely than parents to report that they store medicine in places that children can easily reach.

The situation is especially troubling because medications are the leading cause of child poisoning today, according to the Centers for Disease Control and Prevention. More than 60,000 children are treated in emergency rooms each year because they swallowed medication when no one was watching, the CDC says; up to 20 percent of child poisonings involve a grandparent's medication.

To keep young children away from potentially harmful medicines, the CDC has a "Put Your Medicines Up and Away and Out of Sight" page of tips.

The nonprofit global association Safe Kids Worldwide also recommends:

Always put medicines and vitamins away after every use. Never leave them on the counter between dosings. Don't be tempted to "keep them handy" in a purse, backpack, or briefcase, or in an unlocked cabinet or a drawer within a child's reach.
Make sure that all medications in the child's environment are stored out of reach and out of sight.
Program the nationwide poison control center number (1-800-222-1222) into your phones.
In other health news:
Simpler language, more access to results being sought for clinical trial volunteers.
The Wall Street Journal reports that pressure is growing on researchers to do a better job of communicating the results of clinical trials to the volunteers who participated. New FDA regulations that went into effect last month require that trial results be included in the federal
ClinicalTrials.gov
website after studies are completed. A number of summaries are already posted on the site, but they tend to be technical and aimed primarily at experts.
Maggots are helpful? Turns out, they are. For a week, anyway.
Maggots are increasingly used to clean wounds that are not healing or healing only very slowly, the Los Angeles Times reports. The maggots eat away the dead tissue while ignoring healthy tissue that is forming during the healing process. When researchers compared results between maggots or surgeons cleaning wounds, maggots did a better job at the end of eight days. After 15 days, both methods were comparable.
For a healthy old age, learn to let go of regrets.
They key to a happy old age? Let bygones be bygones. A new study finds that those who learn to let go of regrets over past decisions are less likely to succumb to depression, according to the Los Angeles Times.
Photo credit: neighborhoodlink.com