The Cancer Screening That 22 Million of You Still Need To Get
By Candy Sagon, July 15, 2011 08:00 AM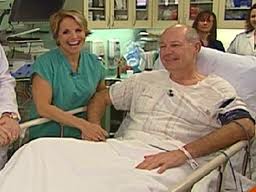 Americans between the ages of 50 and 75 are at the highest risk for colon cancer, yet one out of three -- about 22 million of you -- still haven't gotten screened for this deadly disease.

Many of you have done the right thing, thanks in part to publicity about screening by some well-known TV personalities. As a result, deaths from colon cancer have greatly decreased.

As for the other 22 million folks -- well, federal officials at the Centers for Disease Control and Prevention are very disappointed in you.

Here's why: Screening can find precancerous growths, called polyps, in the colon that can be removed before they turn into cancer. Of the cancers that affect both men and women, colorectal cancer is the number two killer in the U.S.

Those most at risk for colorectal cancer include all adults between 50 and 75, as well as those with a family history of the disease or who suffer from Crohn's disease and other intestinal disorders, according to the CDC.

CDC director Thomas Frieden, who's 50, even revealed during a recent press conference on colon screening that he had four polyps removed during his colonoscopy and he wants more older Americans to get screened like he did. That means an annual test for blood in the stool, or a lower-colon exam every five years with a sigmoidoscope, or a colonoscopy every 10 years.

Following high-profile urging by celebrities like former CBS Evening News anchor Katie Couric, whose husband died from the disease, the number of people getting screened for colon cancer has dramatically increased since 1997, when just 40 percent of older Americans got tested.

As of 2010, two out of three older Americans are up to date on their colon cancer screening. The CDC says screening prevented 66,000 colorectal cancers between 2003 and 2007 and saved 16,000 lives, compared to 2002.

If you're on Medicare, colorectal cancer screening is covered under the new health care law, but coverage under private plans may vary while government regulators get things sorted out.

The best idea is to check with your insurance provider to see what screening they'll cover.

From AARP

Dr Oz: Colonoscopy: The Test That Saved Me

Your Guide to Health Screenings

Medicare's New Preventive Care Benefits

Photo credit: CBS Evening News anchor Katie Couric, an advocate of colorectal cancer screening, guides The Early Show anchor Harry Smith through a televised colonoscopy in 2010. Courtesy of CBSNews.com.