An Apple (or Even a Pear) a Day May Prevent Stroke
By Candy Sagon , September 19, 2011 08:00 AM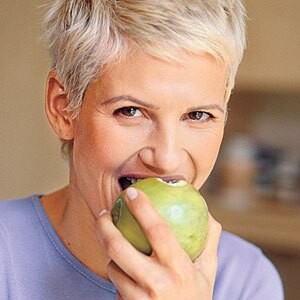 Good news just in time for the fall harvest of apples and pears: It turns out that eating one of those fruits a day may help prevent stroke.
A new, large Dutch study of 20,000 adults ages 20 to 65 found that eating a white-fleshed fruit, like an apple or a pear, daily is associated with a lower risk of stroke.
Darker fruits and vegetables, like dark green spinach and kale, yellow-orange mangoes and carrots, or red/purple raspberries grapes and tomatoes have previously been associated with better heart health.
But the white fruits and vegetables, like apples, pears, bananas and cauliflower, can also help protect the heart.
Researchers in the Netherlands collected data from more than 20,000 men and women who were healthy and free of cardiovascular disease at the start of the study, then tracked their fruit and vegetable consumption by color.
During the next 10 years, 233 of the participants had strokes, but those who consumed about a medium apple a day -- 171 grams of white produce daily -- had a 52 percent lower risk of stroke than those who ate less than 78 grams of white fruit a day.
The findings were published in Stroke, a journal of the American Heart Association.
"To prevent stroke, it may be useful to consume a considerable amount of white fruits and vegetables," said Linda Oude Griep, lead author of the study, told the L.A. Times. But don't neglect other fruits and vegetables, she added, because they may protect against other chronic disease.
Keep in mind that the lowered risk of stroke may have to do with the fact that people who eat more fruits and vegtables -- of any color -- might generally lead healthier lifestyles.
Still, biting into a crisp, fresh fall apple or pear is a delicious way to take your medicine. And help protect your health.
Photo credit: allyou.com