Are Those Popular Gel Manicures Safe?
By Candy Sagon , October 15, 2012 08:00 AM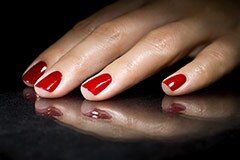 For those of us for whom beautiful, manicured nails are a must, the new gel manicures are like a gift from beauty heaven.
Customers love these manicures - the hot trend at nail salons - because the gel polish dries almost instantly, stays shiny and doesn't chip for weeks. So what's not to like?
Um, a cancer risk?
The problem is the UVA light that's used to dry, or cure, the polish. That bluish-purple light, the same kind used in tanning beds, has been linked to an increased risk of skin cancer, EverydayHealth.com reports.
Not that there's a huge amount of evidence. Most articles point to a 2009 study published in the Archives of Dermatology that reported on two middle-aged women, with no personal or family history of skin cancer, who developed non melanoma skin cancer on the backs of their hands. One woman had been exposed to UV lights in a nail salon twice a month for 15 years. The second woman used UV nail lights eight times in one year before being diagnosed.
According to the Washington Post, it takes about 10 minutes under the lights to dry gel polish, longer than needed with either regular manicures or acrylic nails. On the other hand, nail-industry consultants say their calculations show that UV rays from nail lamps are equivalent to one or two extra minutes in the sun each day between manicures.
To be really safe, "people could use a sunscreen to try to block the UV from their surrounding skin," dermatologist Anna M. Bender, M.D., with Johns Hopkins University, told the Post. She recommends sunscreen with zinc or titanium oxide rather than a typical sunscreen to shield the skin from UVA rays.
Gel manicures have been around for about a decade but zoomed to popularity with the 2010 launch of CND's Shellac brand. The original gel manicure consisted of a thick layer that was difficult to remove. The Shellac brand, as well as newer products like OPI's GelColor, comes off more easily.
Gel manicures cost $30 to $40, almost twice the cost of a standard manicure in some areas, the Wall Street Journal reports. But that hasn't kept women from seeing them as a frugal but fun splurge, boosting business for nail salons and the $1 billion-plus nail-products industry.
In other health news:
Scientists discover the harshest sound -- and it's not nails on a blackboard. What's the worst sound imaginable? Scientists used brain MRI scans to find out that the piercing screech of a knife against a glass bottle to be the human ear's worst nightmare, ABC News reports. Volunteers in the University of Newcastle study found that a fork against glass is the second worst. One of the best? The sound of flowing water.
Folic acid doesn't cut risk of colon polyps. Reuters reports that a new study of nearly 1,500 women, with an average age of 62, found that taking extra folic acid and other B-vitamin supplements may not help protect against colon polyps. The research contradicts observational studies suggesting people who get more of the vitamins are less likely to get colon cancer.
Photo: Courtesy Istockphoto