Are You a Big Tipper? Survey Shows Age Matters
By Candy Sagon , June 05, 2014 08:00 AM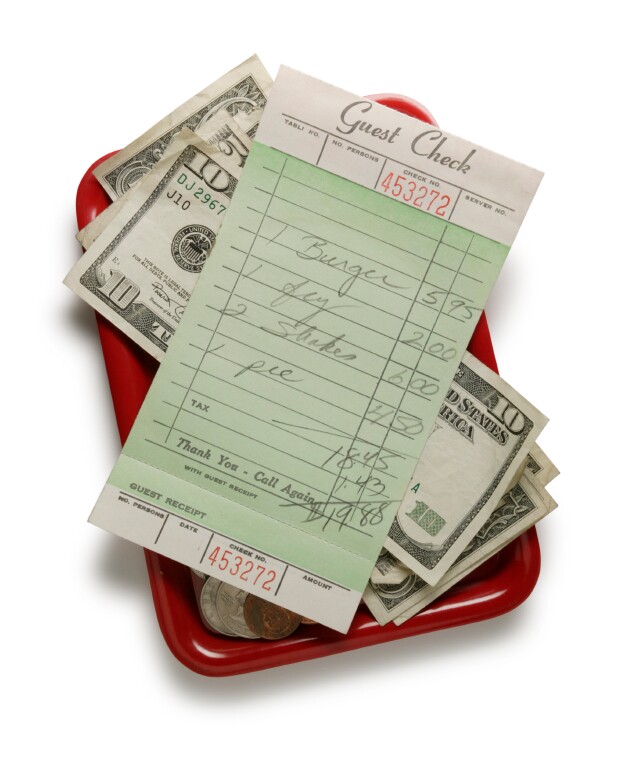 Who are better tippers in restaurants, older or younger diners? You might be surprised, reports a new survey - 30 percent of those 18 to 34 admit they usually skimp on their tip, while nearly all customers age 65-plus say they tip the expected 15 to 20 percent.
The survey from French company Michelin, publisher of well-known restaurant guides, found that on average, Americans tip 18 percent for good service after dining out, slightly less than the 19 percent a Zagat survey found last year.
The survey of more than 2,000 adults, conducted by Harris Interactive, found that 70 percent of us usually tip between 15 and 20 percent and 1 in 10 say they typically tip more than 20 percent - men are more likely to say this than women.
>> Get travel discounts with your AARP Member Advantages.
Fortunately, considering that tips make up most of a waiter's wages, only a mean-spirited 1 percent say they leave nothing.
But the survey also revealed some surprising results:
Older diners are more consistently generous tippers. Most of those age 65 and over (84 percent) said they always tip between 15 and 20 percent. More than half of diners age 55-plus said they typically leave 20 percent, as did 41 percent of those ages 35 to 54.
Those under 35 are more likely to undertip. A third of those ages 18 to 34 admitted they usually tip less than 15 percent, perhaps because they earn less, while only 16 percent of those over age 35 did.
But younger diners are also more likely to leave an unusually large tip. Nearly 40 percent of those ages 18 to 44 said they have occasionally left a 30 percent tip or more for good service, vs. 22 percent of those 55-plus. Sixteen percent of the under-44 crowd have also left a hefty 50 percent tip, compared to only 7 percent of those over 55.
>> Sign up for the AARP Money newsletter
The Northeast tips the best. Diners in the Northeast not only tipped more than those in other regions, they were also least likely to leave under 15 percent. On the other hand, if you're a waiter in the South or the West, you may need a second job: Customers there were the most likely to leave a skimpy tip.
Men are more likely than women to be big tippers. The survey didn't find a lot of differences between men and women, although more men say they're big tippers: More men made it a rule to tip more than 20 percent, and they were also more likely to leave an exceedingly generous tip of 30 or 50 percent.
Photo: DNY59/iStock
Also of Interest

See the AARP home page for deals, savings tips, trivia and more