Arsenic in Rice? Yes, Especially Brown Rice
By Candy Sagon, September 20, 2012 08:00 AM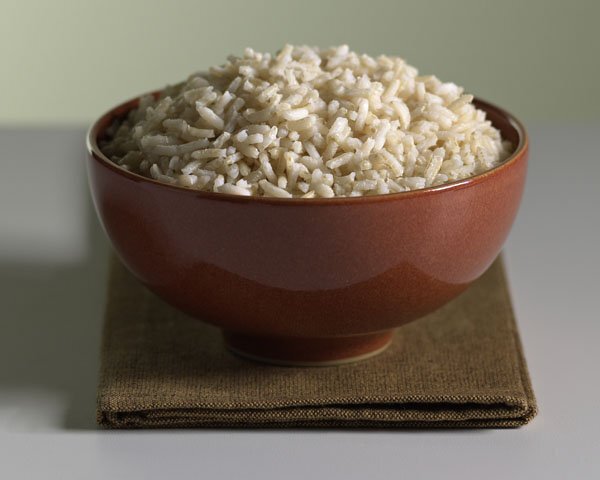 It was dueling rice reports on Wednesday.

First up, Consumer Reports announcing that an analysis of 200 samples of 60 rice products, including breakfast cereal and rice pasta, turned up "worrisome levels" of the inorganic form of arsenic, a toxin known to cause liver, lung, kidney and bladder cancer.

The consumer group found that brown rice, in particular, had higher levels than white. Some of the highest levels of inorganic arsenic were found in brown rice sold by Whole Foods Markets under the 365 Everyday Value brand, and by Wal-Mart under the Great Value brand.

The group also found that white rice grown in Arkansas, Louisiana, Missouri, and Texas, which account for 76 percent of domestic rice, generally had higher levels than white rice samples grown elsewhere.

Inorganic arsenic, found in pesticides and insecticides, is present in soil and water and absorbed by rice as it grows.

The group, which did a similar report earlier this year on arsenic in juice, is pressuring the Food and Drug Administration (FDA) to set safe limits on arsenic levels in food, something the agency hasn't done yet.

But the FDA insists it's not ignoring the problem. The agency released on Wednesday its own rice report. Its own sample results from 200 rice products turned up similar amounts of arsenic in items ranging from bagged rice to rice cakes.

As reported in the Washington Post, the federal agency is also testing another 1,000 samples before making a recommendation about arsenic levels, but not until late next year. And while Consumer Reports recommends reducing your rice consumption for now, the FDA says that's not necessary.

Finding elevated levels of arsenic in rice is nothing new. Scientists have been publishing reports on this for more than a decade, according to science writer Deborah Blum, an expert on poisonous food and author of The Poisoner's Handbook.

Writing for Wired.com, Blum said there's an obvious reason why rice contains so much arsenic: Of all the grains, rice is best designed to absorb minerals, including arsenic, that are stored in the soil. Some arsenic is just a naturally occurring mineral, but the inorganic kind comes from chemicals.

It's rice's efficiency at absorbing minerals that explains why, as Consumer Reports noted, rice had at least five times more inorganic arsenic than other grains, such as oatmeal.

So why the bad news about brown rice? Isn't it supposed to be healthier for us? It's because "as white rice is processed, much of the rice hull is removed and that tends to be a place where (the arsenic) is concentrated," Blum wrote. Brown rice retains the hull.

As to whether these arsenic levels pose an immediate health threat, both the FDA and, not surprisingly, the USA Rice Federation, say no. Both contend these are just trace amounts in what is still a safe and healthy food.

Still, consumers can limit their arsenic intake. Here are some suggestions from Consumer Reports and the FDA:

Change the way you cook rice. Rinse raw rice thoroughly before cooking, using a ratio of six cups water to one cup rice for cooking and then draining the excess water afterward. That is a traditional method of cooking rice in Asia. The modern technique of cooking rice in water that is entirely absorbed by the grains has been promoted because it allows rice to retain more of its vitamins and other nutrients. But even though you may sacrifice some of rice's nutritional value, research has shown that rinsing and using more water removes about 30 percent of the rice's inorganic arsenic content.
Experiment with other grains. Vary your grains, especially if you eat more than two or three servings of rice per week. Though not arsenic-free, wheat and oats tend to have lower levels than rice. Quinoa, millet, and amaranth are other options, especially for those who eat a lot of rice because they are on a gluten-free diet.
In other health news:

Kroger recalls spinach over listeria risk in 15 states. Kroger is recalling spinach sold at grocery stores in 15 states due to possible listeria contamination, the Associated Press reported. The Fresh Selections Tender Spinach was sold in 10-ounce packages and had a "best if used by" date of Sept. 16. The grocer said Wednesday that if customers did buy the recalled product, they should return it to stores for a full refund or replacement.

Pacifier use in boys can lead to emotional problems. Grandmas and moms are likely to disagree, but Fox News reports on a new study that finds that baby boys who frequently use pacifiers may have an increased risk of developing emotional problems when they are older.

Mid-life men struggle with identity, have higher suicide risk. Reuters reports on a British study that found that middle-aged men from disadvantaged backgrounds are 10 times more likely to commit suicide, often because they have lost a sense of identity and masculine pride.

Photo: Courtesy USA Rice Federation