When Is 'No Treatment' the Best Treatment?
By Candy Sagon, November 05, 2014 09:00 AM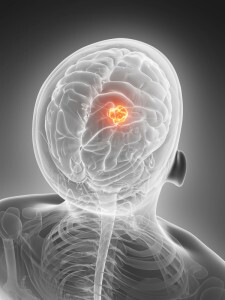 The swift, lethal nature of brain cancer — and the terrible decisions it forces families to face — has been in the news recently, with three of its victims forcing us to think about choices we hope we never have to make.

There was, of course, the well-publicized death of Brittany Maynard, 29, diagnosed with the most common and deadly form of brain cancer — glioblastoma.

Doctors don't know what causes these insidious growths, according to the National Brain Tumor Society. The treatment to try and slow their damage is brutal and generally ineffective, and the average survival rate is only about 15 months, which is why Maynard decided against treatment.

>> 12 Celebrities Who Beat Cancer

Instead, she used her illness and her decision to end her life Nov. 1 as a way to raise public discussion about what she believed was a person's right to make these difficult choices for themselves.

A day after Maynard's death, there was 19-year-old basketball player Lauren Hill, diagnosed with a similar type of fatal tumor, who had bravely asked to play one more time with her Ohio college team. During an emotional game that had been rescheduled to grant her wish, she dropped in two lay-ups to help her team win the game.

Both of these young women certainly faced their illness courageously. But for those of us who are older, perhaps the most poignant and thoughtful essay about facing a diagnosis of an inoperable brain tumor came from Los Angeles writer Nora Zamichow, whose op-ed Oct. 24 in the Los Angeles Times was titled, "A radical cancer therapy: Don't treat."

Zamichow wrote about her husband, who initially grasped at the hope of gaining another five years of life by undergoing aggressive chemotherapy for his brain cancer.

"At 58, Mark was relatively young and strong, and a doctor told us that 50 percent of the UCLA patients with his kind of tumor were alive after five years. We never thought about that other 50 percent," Zamichow wrote.

Even more significantly, she added, "when we discussed treatment options, no one proposed the most basic: Do nothing."

And that's the crux of the decision for all these patients: harsh treatment with its own life-threatening side effects to perhaps gain a little time, or no treatment and making the most of your good days before the inevitable happens.

What Zamichow and her husband discovered is that while doctors may push their patients to consider different treatments to slow the tumor's growth, doctors themselves would not want similar treatment for such an incurable, irreversible condition, according to a recent Stanford University School of Medicine study.

Doctors also find it hard to level with patients about their choices when hope is so slim. As a recently released Institute of Medicine report noted, "The overall quality of communication between clinicians and patients with advanced illness is poor, particularly with respect to discussing prognosis."

>> Get discounts on health services with your AARP Member Advantages.

In her husband's case, after suffering terrible effects from several rounds of chemotherapy that at one point landed him in hospice, the couple decided to stop treatment and let him enjoy his remaining time with family and friends.

"Only at the end, after we opted out, did it feel like Mark grappled with the cancer on his own terms," she wrote.

"Ten months after his diagnosis, my husband died with me by his side in bed at home."

Photo: Eraxion/iStock

Also of Interest:

See the AARP home page for deals, savings tips, trivia and more.