Beyond Brrrr: Stay Safe During Record-Breaking Freeze
By Candy Sagon , January 06, 2014 03:20 PM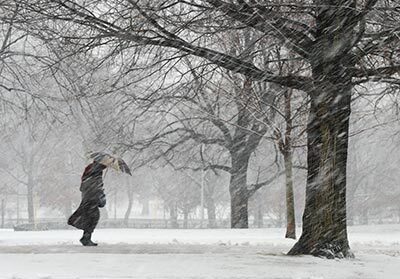 This isn't just cold, this is a life-threatening freeze that's breaking decades-old records across a huge swath of the country. So far, 20 storm-related deaths have been reported, including three people in Chicago who died while shoveling snow.
Called a "polar vortex," for the whirlpool of bitterly cold air that has descended from Minnesota to Alabama, residents are being warned to stay indoors and take precautions if they need to venture outside. Even Southern states are bracing for record low temperatures this week.
The sub-zero temperatures and wind-chill warnings mean exposed skin can get frostbitten in minutes, and hypothermia - when the body's temperature falls dangerously low - can quickly set in.
Here's what you need to know to stay safe:
Protect your skin. At temperatures of 15 to 30 below, exposed skin can get frostbitten in minutes. Frostbite most often affects the nose, ears, cheeks, chin, fingers or toes, according to the Centers for Disease Control and Prevention (CDC). For older adults with reduced blood circulation or those improperly dressed, the risk is even higher.
Try not to stay outside more than 20 minutes. Wear a hat that comes down over your ears and be sure and protect your face and neck. Brian Mahoney, medical director of emergency services at Hennepin County Medical Center in Minneapolis, added these tips: Mittens are better than gloves, layers of clothing are best, and anyone who gets wet needs to get inside immediately, he told the Associated Press.
If you think you may have suffered frostbite (skin is numb, with grayish-yellow patches), do not thaw using hot water or a heating pad. This can damage the skin more, as can rubbing it. Use lukewarm water or your own body heat to thaw (for example, use heat of your armpit to gently warm frostbitten fingers). Seek medical attention.
"Show Us Your Modern Family" Photo Contest. Upload your photo for a chance to be photographed in AARP The Magazine. See official rules.
Wear layers the right way. If you must go outside, wear layers to protect against heat loss and wetness. As USA Today reported, the layer closest to your skin should be a wool, silk or synthetic material - not cotton. Cotton stays wet if you sweat, which makes you lose heat. The next layer should be a sweater or fleece. Then put on your coat, ideally one that is waterproof and insulated. And don't forget your hat - a large portion of body heat is lost through the head.
Make sure your home is warm enough. The National Institutes of Health warns that frigid weather can pose special risks to older people. Even mildly cool homes with temperatures from 60 to 65 degrees can lead to hypothermia in older people. Set the thermostat to at least 68 to 70 degrees. Make sure feet are kept warm with socks and slippers, keep legs and shoulders warm with a blanket, and wear a cap. Wearing layers of clothes will keep you warmer.
Protect against falls and injuries. Take precautions if you need to go outside. With temperatures this low, the salt normally used to melt ice and snow on roads and sidewalks doesn't work as well. Read these tips from orthopaedic surgeons on the best way to walk on icy pavement (shuffle, or do the sidestep), as well as the safest way to shovel snow (push it out of the way, don't twist your body).
Warn your kids and grandkids. As Florida meteorologist Ryan Maue put it: "If you're under 40, you've not seen this stuff before." It's not only older people who need to be sure to dress properly during this killer cold spell. Younger folks, who may not understand the risks of these record temperatures, also need to be encouraged to take the necessary precautions.
Be kind. Check on elderly neighbors or relatives to be sure they're warm and safe. Don't allow pets to stay outside except for short periods, and if you see pets left outside, call the local animal control office, the police non-emergency number or the area Humane Society chapter.
>> Get travel discounts with your AARP Member Advantages.
Photo: Flickr RF/Getty Images
Also of Interest

See the AARP home page for deals, savings tips, trivia and more