A Christmas Dinner That's Cheap, Fabulous... and Good For You
By Candy Sagon , December 23, 2011 09:00 AM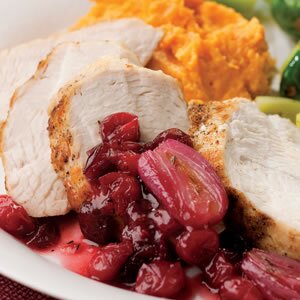 Tis the season to celebrate in style, but with an eye on your budget and your health.
EatingWell magazine associate food editor Matthew Thompson has created a Christmas dinner menu that not only comes out to less than $5 per serving (including dessert), but his choices are sumptuous without going overboard on fat.
Plus, it's a meal heavy in vitamin-rich vegetables, which research has shown can help protect older Americans against heart disease.
Thompson's strategy is to make use of ingredients that are cheap and in plentiful supply this season, including turkey, cranberries, potatoes, Brussels sprouts, carrots and parsnips.
Best of all, the recipes are easy to make and festive enough for guests.
Here's his menu with links to the recipes:
Turkey tenderloin with cranberry-shallot sauce ($2 per serving): A fast way to make roast turkey, with a tangy sauce enhanced with thyme.
Sauteed Brussels sprouts with bacon and onions (65 cents per serving): Sprouts and bacon --a match made in heaven.
Parsley smashed new potatoes (52 cents per serving): An irresistible mash-up of new potatoes, a little butter, yogurt and parsley.
Carrot-parsnip gratin (70 cents per serving): A creamy, cheesy blend of carrots and sweet parsnips, which resemble white carrots.
Peppermint pattie pots de creme (50 cents per serving): Mini puddings with a top layer of rich, dark chocolate. (And we all know how good dark chocolate is for our blood pressure, right?)
Photo courtesy EatingWell.com