Can Zinc Zap The Common Cold?
By Candy Sagon, May 8, 2012 08:00 AM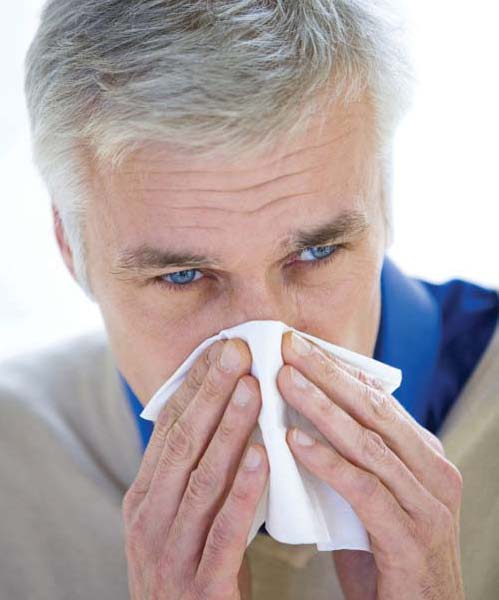 Taking over-the-counter zinc pills can shorten your cold by a couple days, but that modest benefit can leave a bad taste in your mouth. Literally.

Reuters reports that a new review by Canadian researchers of past studies of oral zinc lozenges suggest that the pills may help you get over a cold a little faster, but the common side effects include a metallic taste in your mouth, nausea and abdominal pain.

The pills also don't seem to help children, the researchers found.

In the new review, published in the Canadian Medical Association Journal, the scientists concluded that while zinc pills may reduce duration of symptoms of the common cold, further research is needed to make sure the side effects are worth the apparently small benefit.

"Until further evidence becomes available, there is only a weak rationale for physicians to recommend zinc for the treatment of the common cold," the researchers wrote. "The questionable benefits must be balanced against the potential adverse effects."

The researchers compiled data from clinical trials that compared people who took zinc orally to another group that either took a placebo or received no treatment.

Of the 17 trials that included 2,121 people aged one to 65 years old, zinc pills shortened colds by about 2 1/2 days for adults, but didn't seem to make much a difference in children -- perhaps because children took smaller doses and less often than adults.

Colds lasted about seven days for people who didn't take zinc, but the severity of symptoms on day three were the same for both the zinc and non-zinc groups. Those who took zinc were 64 percent more likely to feel nauseous, and 65 percent more likely to have an unpleasant taste in their mouth.

Lead author Michelle Science of Toronto's Hospital for Sick Children and her colleagues said they don't know why zinc stops the rhinovirus, the culprit in most cases of the common cold.

The scientists also didn't look at zinc nasal sprays. Some of these over-the-counter sprays and gels have been linked to a permanent loss of the sense of smell by damaging nasal nerves.

In 2009, federal health regulators warned consumers against using some Zicam zinc products after 130 consumers reported losing their sense of smell.

In other health news:

Aspirin seen as effective as warfarin. The New York Times reports that people with congestive heart failure are often treated with the blood-thinner warfarin to prevent blood clots, but a large new study has found that aspirin works just as well. After tracking more than 2,305 patients for up to six years, scientists found no significant difference between the two drugs.

Obesity forecast: Big and getting bigger in the next 20 years. The Associated Press reports that the obesity epidemic may be slowing, but our waistlines are still growing, according to research by Duke University. Today, just over a third of U.S. adults are obese; by 2030, it's estimated that will rise to 42 percent. Worse, the already obese are getting fatter.

New research center to focus on breast and ovarian cancer genes. A new center at the University of Pennsylvania will be dedicated to studying BRCA, a set of genes with ties to breast and ovarian cancer, reports the New York Times. It will be the first comprehensive center to focus on a specific set of mutations known to cause cancer.

Health care access to erode if law struck down. Access to health care deteriorated for adults aged 19 to 64 between 2000 and 2010, even among those with private health insurance, a new study shows. The study, by the nonpartisan Urban Institute, found that this lack of access will continue if the health care law is struck down by the Supreme Court or repealed in Congress.

Photo credit: pharmacytimes.com