Check the Mirror: 4 Signs of Heart Disease Risk
By Candy Sagon, November 07, 2012 08:00 AM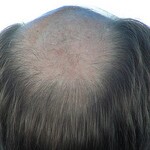 Apparently, looks really do matter, at least when it comes to health. A new study finds that if you look old for your age, it could signal that your heart is aging too quickly as well.

Research presented this week at the American Heart Association's scientific meeting in Los Angeles found that people who have three to four distinctive aging signs - a receding hairline at the temples, baldness at the crown of the head, an earlobe crease, or bumpy yellow fat deposits around the eyelids - have a greater chance of developing heart disease than do younger-looking people of the same age, the Associated Press reported.

"Looking old for your age marks poor cardiovascular health," said lead researcher Anne Tybjaerg-Hansen, M.D., of the University of Copenhagen in Denmark. "Checking these visible aging signs should be a routine part of every doctor's physical examination."

The large Danish study followed 11,000 adults age 40 or older for 35 years, It found that the risk of heart disease or heart attack increased with each additional sign of aging in all age groups. The highest risk was for those in their 70s and those with multiple signs of aging.

People with three to four of the signs had a 57 percent greater risk for heart attack and a 39 percent greater risk for heart disease, compared with people with none of these signs. Having yellowish eyelid bumps, which could be signs of cholesterol buildup, conferred the most risk, researchers found.

One bit of good news: Wrinkles on the face and gray hair were apparently just ordinary consequences of aging and did not correlate with heart risks.

In other heart news this week:

Stem cells from strangers can repair hearts. Researchers are reporting a key advance in using stem cells to repair hearts damaged by heart attacks. A study showed that stem cells donated by strangers proved as safe and effective as patients' own cells for helping restore heart tissue, according to the Associated Press. The work involved just 30 patients in Miami and Baltimore, but it proves the concept that anyone's cells can be used to treat such cases.

Photo: tothalvadi via flickr