Check Your Medicine Cabinet: Excedrin, Bufferin, NoDoz and Gas-X Recalled
By Candy Sagon , January 09, 2012 02:35 PM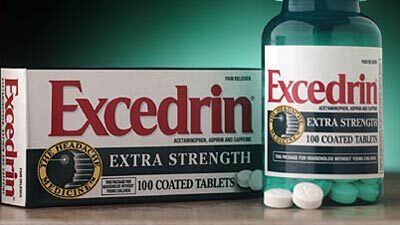 Several well-known, over-the-counter medicines from drug-maker Novartis -- including 16 types of Excedrin -- are being voluntarily recalled, the Food and Drug Administration has announced, because some bottles may contain broken pills or tablets from other Novartis products, including some powerful prescription painkillers.
Consumers are being warned to check their medicine cabinets for Excedrin and NoDoz with expiration dates of Dec. 20,2014, or earlier, and Bufferin and Gas-X Prevention with expiration dates of Dec. 20, 2013, or earlier.
Consumers who have the products should stop using them and contact the Novartis Consumer Relationship Center at 1-888-477-2403 (available Monday through Friday 9 a.m. to 8 p.m. Eastern Standard Time) for information on how to return the recalled products and receive a full refund.
For more detailed information, consumers can go to www.novartisOTC.com for a complete list of products and a link to obtain a refund form.
Novartis says the recalled products may contain chipped or broken tablets, as well as a bigger problem -- "stray tablets, capsules or caplets," of other kinds of medicine that may have ended up in some of the bottles. The company explains that mixing of different products in the same bottle could lead to potential overdose, allergic reaction or other unintended effects for consumers.
Quality problems with the Lincoln, Neb., Novartis plant, which is now closed, have been going on since 2009, according to the FDA. Novartis "failed to adequately investigate" 166 complaints about pill mix-ups, the FDA said, including problems with Excedrin Migraine caplets, tablets and gelcaps, NPR reported.
The FDA is also warning consumers to check bottles of Percocet, Percodan, Opana and other drugs from Endo Pharmaceuticals, which were manufactured at the same plant. Make sure all the pills look the same, before taking them.
Photo credit: wgnradio.com