Colonoscopy Cuts Death Rate By Half, New Study Shows
By Candy Sagon , February 23, 2012 08:00 AM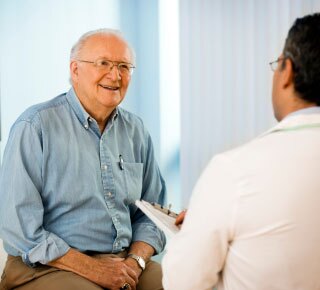 It's probably your least favorite cancer test, but a new study finds that the colonoscopy dramatically cuts the death rate from colorectal cancer.
A team of researchers at Memorial Sloan-Kettering Cancer Center in New York City found that the death rate from colorectal cancer was cut by 53 percent in patients who had a colonoscopy with removal of precancerous polyps, or small tumors.
The evidence was based on 2,602 adults, who had polyps removed during colonoscopies from 1980 to 1990, and who were then tracked for more than two decades.
"This is very strong evidence that provides assurance that there is a long-term benefit to removing these polyps," lead author Ann Zauber, a biostatistician at Sloan-Kettering, told HealthDay News. "Over more than 20 years, we're getting this very consistent decrease in colon cancer deaths, so that's very exciting."
The study was published Wednesday in the New England Journal of Medicine.
Doctors compared the subjects' death rate from colorectal cancer with that of the general population and found that there were only 12 deaths in the study group, compared to 25.4 deaths in a group the same size in the general population, the New York Times reported.
A colonoscopy can detect small, precancerous growths, allowing doctors to remove them before they become malignant.
Although research has shown that removing these polyps greatly reduces the incidence of colorectal cancer, Americans still don't get the exams as often as they should. That's probably because a colonoscopy exam is invasive -- the bowel is viewed with a tiny, insertable camera -- and patients must be sedated. It also involves a day-long cleanse, using laxatives, of the lower intestine before the exam.
Even so, colorectal cancer -- the third deadliest in the U.S. -- is one of the few cancers that can be prevented with screening. According to the most recent federal statistics, about 143,000 Americans will be diagnosed with the disease this year, and about 53,000 will die from it. Although the death rate has been slowly declining, only about half of Americans get the exam.
A second study in Spain of 53,000 patients, also published this week, found that the relatively inexpensive, non-invasive stool sample test found similar numbers of colon cancer cases, but colonoscopies found advanced growths in twice as many people as those who took the stool test. Colonoscopy also found 10 times more people with less serious growths than the stool test did.
The Centers for Disease Control and Prevention estimate that as many as 60 percent of colorectal cancer deaths could be prevented if Americans age 50 and older would get screened regularly.
A colonoscopy should be done once every 10 years for those 50 and older whose initial exam didn't find polyps; if polyps are found, you should have it done every three years, medical experts say.
In other health news:
Judi Dench, James Bond's boss, has degenerative eye condition. Oscar-winning actress Judi Dench, 77, perhaps best known as James Bond's mysterious boss M, has been dealing with two different forms of macular generation -- one in each eye. According to Reuters, she can no longer read scripts and has to have someone read them out loud to her, "like reading me a story."
For male hair loss, leg hair transplant may be one solution. Doctors may have a leg up on baldness: Transplanting hair from a patient's legs to his head for what may be a more natural look. In the February issue of the Archives of Dermatology, Dr. Sanusi Umar explained that the finer, softer hair found on the leg is an ideal candidate for hair grafts that aim to recreate the hairline, HealthyDay News reports.
Photo credit: sportsnhealth.net