Cost Puts New Drug for Hepatitis C Out of Reach for Many
By Julie Appleby, Kaiser Health News staff writer, in association with The Daily Beast

There's a new drug regimen being touted as a potential cure for a dangerous liver virus that causes hepatitis C. But it costs $84,000 - or $1,000 a pill. And that price tag is prompting outrage from some consumers and a scramble by insurers to figure out which patients should get the drug - and who pays for it.

Related: CDC: All Boomers Need Hepatitis C Test

Called Sovaldi, the drug is made by California-based Gilead Sciences Inc. and is the latest in handful of new treatments for hepatitis C, a chronic infection that afflicts at least 3 million Americans and is a leading cause of liver failure. It was approved by the U.S. Food & Drug Administration in December.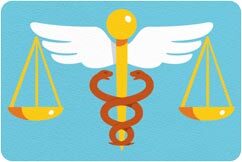 "Everyone is still scrambling to figure out how to handle this," said J. Mario Molina, president and CEO of Molina Healthcare, one of the nation's largest Medicaid managed care companies, which is seeking emergency guidelines from the 11 states in which it operates. "It's far superior to anything we've had to treat hepatitis C. The problem is it's extraordinarily expensive."

Medicaid programs may be particularly hard hit because they are likely to cover a higher proportion of patients with the virus and cannot raise premiums like commercial insurers, Molina said. Medicaid managed care firms like his are paid a set amount per member per month by the state to cover all their medical costs.

If left untreated, hepatitis C causes liver damage over the course of decades. The U.S. Preventive Services Task Force recommends that all baby boomers be tested for the blood-borne virus, which often goes undiagnosed because it produces few symptoms. It is spread mainly by intravenous drug use, but many people were unknowingly infected by poorly sterilized medical equipment and blood transfusions before widespread screening of the blood supply began in 1992. Some may also been infected through tattoos and piercings with contaminated needles.

Big Gains Over Current Drugs

With a success rate of better than 90 percent, Sovaldi is seen as a vast improvement over older treatments, some of which helped only half of patients. Those older drugs cost about $25,000 per treatment, while some newer products approved in 2011 have prices closer to Sovaldi, but have more side effects or are more complex to administer.

A typical course of treatment with Sovaldi goes 12 weeks and costs $84,000, but some patients may need to take the drug for twice as long. Guidelines also suggest that for some patients, Sovaldi be used with other drugs, such as interferon and ribavirin, adding to the cost.

Molina said he has asked state Medicaid directors for guidance on how to proceed with its 2.1 million beneficiaries. In the meantime, he said his firm will not cover the drug, which he says could add $300 million to $400 million to its costs this year. He wants states to cover the drug outside its contracts with his company because the costs were not built into rates negotiated for this year.

"Whether we pay for it or the state pays for it, it will be a huge expense," he said. "California spends $3,500 per person a year in the Medicaid program. You could cover an awful lot of people for $84,000."

A Molina spokeswoman said the company is not required to cover the drug since it was approved after its managed care contracts were negotiated. "In the meantime, we are continuing to cover the same medically necessary hepatitis C treatments that were available prior to December 2013," said the spokeswoman, Sunny Yu.

In traditional Medicaid, states must cover FDA-approved drugs marketed by companies that have negotiated rebates with the federal Medicaid drug rebate program. Gilead participates in that program, a spokeswoman said.

But states have flexibility to manage their Medicaid drug costs by using preferred drug lists and requiring prior authorizations for some treatments. In addition, enrollees covered under the health law's expanded Medicaid program may have access to a narrower selection of drugs in some cases, depending on how the state has set up its program. ...

Read the complete article at Kaiser Health News...