Could Your iPad Disrupt Your Heart Device?
By Candy Sagon, May 13, 2013 07:05 AM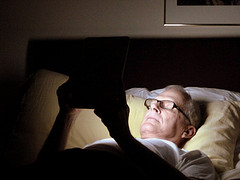 If you like to lie on the couch - or in bed - with your iPad propped on your chest, you could be putting yourself at risk if you also have an implanted heart device.

That's what a super-smart 14-year-old discovered in a preliminary study of 26 patients age 50 or older with heart devices, such as an implanted cardioverter defibrillator for protecting against arrhythmia.

High school freshman Gianna Chien of Stockton, Calif., did the research with some assistance from her cardiologist father, Walter Chien, M.D., according to the Heart Rhythm Society. Her study was presented last week at the society's annual meeting in Denver.

The teen found that the magnets embedded in the iPad 2 and its cover may cause electromagnetic interference that can disrupt or turn off a cardiac-rhythm device. These devices contain specialized magnets that allow doctors to adjust their setting. The danger occurs when the iPad is placed directly on the chest - particularly if patients fall asleep with it lying there.

"Since tablets are becoming more common, I hope these findings will encourage patients who have or may be a candidate for implantable defibrillators to talk to their doctor about precautions if they use a tablet like the iPad 2," Gianna Chien said.

Her study found that 30 percent of participants had interference with their heart devices when the iPad 2 was placed on their chest. There was no electromagnetic interference, however, when the iPad was kept at normal reading distance from the chest.

According to the National Institutes of Health, other equipment with imbedded magnets - like cellphones, magnetic resonance imaging (MRI) machines and metal detectors - can also disrupt defibrillators and pacemakers.

The problem is that people don't even realize their heart device has been affected. "There is no trigger, no light goes off [to alert you]," Salvatore Insinga, a neurosurgeon at the Cushing Neuroscience Institute at North Shore-LIJ Health System in Great Neck, New York, told HealthDay News.

"With all the tech devices people are using and all the implanted things in patients, this is more of an issue now," he added.

An Apple spokesman said the iPad 2's instruction book suggests that patients with pacemakers keep the iPad at least 6 inches away.

Photo: krossbow /flickr