Eating Done Right: Eggplant-Food of the Week
By Carole Carson , December 13, 2012 01:23 PM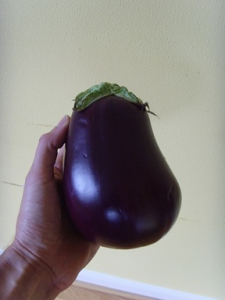 Isn't eggplant an odd moniker for a purple vegetable? Just for the record, the eggplant is not really a vegetable. Technically, eggplants are considered fruit, and the first eggplants were small, round and white; hence the name.
Whatever its history, once you've discovered eggplant, you are likely to make it a staple in your kitchen. Because of its bland taste, eggplant absorbs surrounding flavors, thus making it a versatile ingredient in many dishes, and the texture of cooked eggplant makes the vegetable an excellent stand-in for meat. And last among its virtues? Eggplant is relatively low in calories.
Eggplant comes in several shapes and varieties, for example, 'Black Magic,' 'Black Beauty,' 'Zebra,' 'Graffiti,' 'Chinese,' 'Indian' and 'Japanese.' The white ones are called 'Albino' or 'White Beauty.' Although I eat all the varieties I can find, I prefer the smaller ones since I find their skin less bitter and tough. If I use the larger kind, I peel about half the skin off so that the vegetable looks striped.
Here's a simple recipe for eggplant that you can serve as a main course. I found the recipe in The Oldways Table on page 65. It also appears on the Oldways Table website.
Oven-Baked Eggplant with Mozzarella and Fresh Herbs
Serves 6
3 large eggplants, trimmed and cut into 3/8-inch slices
1 tablespoon sea salt
1/2 cup extra-virgin olive oil
1 small onion, finely chopped
2 cloves garlic, finely chopped
1 pounds tomatoes, peeled, seeded and chopped
3 tablespoons finely chopped fresh mint leaves
2 tablespoons fresh thyme leaves
Salt and freshly ground black pepper
1/2 cup chopped fresh basil leaves
3/4 pound mozzarella cheese, sliced
Spread the eggplant on paper towels and sprinkle with the sea salt to release the bitter juices. After 30 minutes, pat the eggplant dry. Brush the eggplant slices with 5 tablespoons of the olive oil and cook over high heat on a gas grill or in a cast-iron skillet, about 4 minutes on each side. Transfer the grilled eggplant to a plate and set aside.
In a large skillet, heat the remaining 3 tablespoons of olive oil over medium-low heat. Add the onions and garlic. Sauté until translucent, about 8 minutes. Add the tomatoes, mint and thyme. Season with salt and pepper. Cook until the sauce is thick, about 35 minutes, stirring occasionally.
Preheat the oven to 400 degrees. Arrange a layer of eggplant in a lightly oiled baking dish and cover with ladles of the sauce, then a sprinkle of the basil and then a layer of the mozzarella. Continue until all of the ingredients are used up. Bake until the cheese starts to bubble, about 35 minutes. Serve hot.
Bon appétit!
P.S. Do you have an eggplant recipe to share?
Photo courtesy of BrandontheMandon
Source: Flickr