Eating Done Right: Tilapia-Food of the Week
By Carole Carson, July 15, 2011 11:59 AM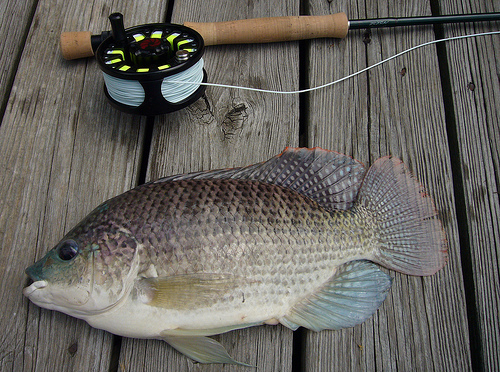 Do you have family members who hate fish? Tilapia may be one fish you can introduce at suppertime without triggering a food fight.

Mild tasting (or as my husband would say, "It doesn't have a fishy taste") and adaptable to almost any style of preparation, tilapia is one of the most commonly consumed fish in the United States, due to its great taste and low price. Indeed, Americans consumed 475 million pounds of the fish last year.

Tilapia has a distinguished history dating back to ancient civilizations. Egyptians, who raised tilapia along the Nile, assigned the fish its own hieroglyph. And scholars surmise that tilapia is likely the fish that Jesus used to feed the crowds who gathered by the Sea of Galilee.

While some nutritionists might argue that tilapia doesn't bestow all of the benefits of other types of fish, tilapia is still a good source of protein, niacin, selenium and vitamin B12. Tilapia is low in sodium and rich in omega-3 fatty acids, which are essential for heart health. Among its other virtues, tilapia is low in calories and contains no carbohydrates.

Below is a nutritious and delicious recipe I found on the popular Food Network's website. The recipe takes about 40 minutes to prepare.

Tilapia Masala with Rice

Serves 4

1 cup basmati rice, rinsed
1 1/3 cups water
1 teaspoon salt, plus more to taste
1/2 cup frozen peas
3/4 cup plain yogurt
1 small clove garlic, chopped
1 1-inch piece ginger, peeled and chopped
1 tablespoon fresh lime juice, plus lime wedges for serving
1/4 teaspoon ground cumin
1/4 teaspoon cayenne pepper
4 6-ounce tilapia fillets
2 tablespoons unsalted butter, melted
1 tablespoon chopped fresh cilantro or mint
Bring the rice, water and 1/4 teaspoon of the salt to a simmer in a saucepan over medium-high heat. Reduce the heat to low, cover and cook 15 minutes. Remove from the heat and add the peas; cover and set aside.

Purée 1/2 cup of the yogurt, the garlic, ginger, lime juice, cumin, cayenne pepper and 3/4 teaspoon of the salt in a food processor. Transfer all but 3 tablespoons of the mixture to a large bowl. Pierce the fish a few times with a fork and season with salt. Add the filets to the bowl and toss. Marinate 15 minutes.

Preheat the broiler. Place the fish on a broiler pan. Top with the marinade and butter. Broil until opaque, 6 to 8 minutes. Mix the remaining 1/4 cup yogurt, the cilantro and salt to taste with the remaining 3 tablespoons of the yogurt mixture. Serve the fish and rice with the yogurt sauce and lime wedges.

Tilapia is now my husband's favorite fish. To convert fish-shy members of your family, check out additional recipes on the AllRecipes.com website. You'll find dozens to choose from.

Bon appétit!

P.S. Do you have any tilapia recipes to share?

Photo credit: Mr-Haze on Flickr.

Carole Carson, author of From Fat to Fit: Turn Yourself into a Weapon of Mass Reduction, serves as the coach for the AARP Fat to Fit online community.