Erectile Woes Linked to Heart Disease, Hospitalization
By Candy Sagon , January 30, 2013 11:14 AM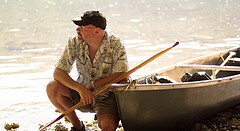 The more problems a man is having with erectile dysfunction, the greater his risk of being hospitalized with heart disease, a new Australian study finds.
Researchers, who examined data on more than 95,000 Australian men age 45 or older, said their findings underscore the importance of physicians checking men for hidden heart problems if they develop even mild erectile dysfunction (ED). As one Australian heart doctor put it, "This is the 'canary in the trousers' for men - if you have erection issues, it's a warning that you may also have issues with your heart."
Even among men in the study with no history of heart disease, having trouble achieving or maintaining an erection meant an increased risk of a hospital stay for cardiovascular problems. As NBC News reported:

Men with moderate ED were 23 percent more likely to be hospitalized for a cardiovascular problem, such as a heart attack, during a two-year period when compared with men who did not have ED.
Men with severe ED were 35 percent more likely to be hospitalized for heart disease as those without ED.
Men who already had heart problems and severe ED at the study's start were 64 percent more likely to be hospitalized for another heart problem during the study period, compared with men without ED.
Although previous studies have shown that erectile problems are linked with an increased risk of heart disease, this study is the first to show that the risk of heart disease increases with the severity of ED - and that even mild erectile problems could be a warning sign, said lead researcher Emily Banks, Ph.D., with the Australian National University's National Centre for Epidemiology and Population Health.
In analyzing the data, researchers took into account factors that might affect heart disease, such as age, smoking, alcohol consumption and obesity. The study was published in the journal PLOS Medicine.
Doctors don't know exactly why ED can be a warning sign of heart problems, but Banks told HealthDay News that it could be because it indicates problems with blood vessels and blood flow. She said the arteries of the penis are smaller than those of other parts of the body and may be more likely to reveal problems when their linings deteriorate.
An estimated 40 percent of men over age 40 have ED, and Banks said it's a problem in 60 percent of men over 70.
Photo: waferboard/flickr