FDA to Pet-Treat Maker: Recall Products or Else
By Candy Sagon, February 27, 2013 07:00 AM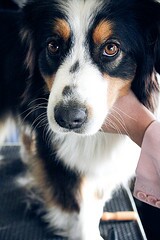 We've warned you once, twice - now it's time to "voluntarily" pull those tainted products before we make you do it, the U.S. Food and Drug Administration (FDA) told a pet-treat maker last week.

The federal agency was using its new power to demand mandatory recalls of contaminated food products. The threat was aimed at Kasel Associated Industries, which subsequently pulled all pet treats manufactured at its Colorado facility from April 20, 2012, through Sept. 19, 2012, because the products - including pig ears, turkey jerky, buffalo hearts and beef knuckles - may have been contaminated with salmonella, NBC news reported.

The treats are sold by several major retailers and distributors, including Petco, Target, Costco, Nutri-Vet and Sam's Club. For a complete list from the FDA of recalled products and brand names, click here.

This is the third recall since September of Kasel products. The company had previously pulled pet treats in September and twice in October, but when testing turned up salmonella for a fourth time in November, the company refused to voluntarily recall products, according to Food Safety News.

In December, FDA officials issued a warning to consumers to avoid the products. On Feb. 14, the FDA sent the company a "last chance" letter, warning that the agency would initiate mandatory recall proceedings under the authority granted to it by the 2011 Food Safety Modernization Act.

It's hard to imagine that Kasel was surprised by the move. The September inspection turned up 14 different strains of salmonella, Food Safety News reported. Tests showed that 48 of 87 swab samples tested positive for the bacteria that can sicken both pets and humans. In addition, FDA inspection reports listed problems with rodents and insects, including larvae, flies, worms and "cockroach-like" insects.
All of the products were made in the U.S., the FDA said in its recall notice, and are not related to the agency's ongoing investigation of jerky pet treats made in China.
Contaminated pet treats not only sicken pets; they can also sicken owners who handle the treats. Food Safety News offers these safety tips:
If you have a pet treat listed in the FDA recall notice, discard it.
Salmonella symptoms in dogs include diarrhea or vomiting. Seek veterinary attention if your dog ate a Kasel-manufactured treat, and report the illness to the FDA (888-INFO-FDA).
Always wash your hands immediately after handling any pet food or pet treat. Also wash any surfaces that came into contact with the treat.


Photo: powazny /flickr