Foodie Mark Bittman Explains 'Vegan Before 6'
One of the most talked about books of the spring is New York Times food writer Mark Bittman's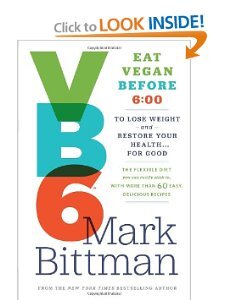 VB6 (a.k.a. Vegan Before Six). In it he explains his diet - which is more a strategy for healthy eating than a structured plan - where he consumes only vegan foods until dinnertime, then eats whatever he wants. It's a compromise that Bittman dreamed up six years ago after his doctor spotted early signs of diabetes and heart disease, and suggested he go vegan, meaning no animal products in the diet. He soon dropped more than 35 pounds. He's a busy man these days, while out promoting the book, but he found a spare eight minutes to give us a call and we got a lively explanation of VB6 and how you can make the diet your own (Vegan on Weekdays, a.k.a., VOW, perhaps?).
You can't really eat everything you want after 6-can you?
Well, you can't eat [nonstop] from 6 to midnight, that's for sure. But you can eat pretty much everything you want for dinner. What I've found, and I've been doing this for 6 years, is that you sort of naturally moderate the size of your dinner because you're learning moderation, in a way, and you're learning restraint.
What do you think is the key to why this plan works?
The key really is delayed gratification, giving yourself the opportunity to eat really, really well during the day, but in a disciplined, mindful manner, and then letting it go at night. It's not magic, but it's kind of the best of both worlds.
And you tend to encourage a lot of flexibility in how to approach VB6-as you do with your recipes. Why not be more firm about how people should approach the diet?
You know, I'm not here to be God or anybody's mother, I'm just here to say if you eat a largely plant-based diet and are pretty strict about it before 6 you're probably going to see improved health and weight loss.
If you have to have milk in your coffee in the morning or say you've gotta have a sandwich for lunch - these are minor things.
When did you decide you wanted to write a book and share your part-time veganism with the world?
After five years I started to think, "This really works." Because enough of my friends had tried it and they'd call and say, "Hey I can do this. This is working." And I'd hear from strangers, too. I'd been doing it long enough that I actually believed in it - it's not just a quirky little thing.
Do you have any specific advice for people who are older about trying it?
I'm 63. It's doable. You're only changing your diet for two-thirds of the time. I mean, do you want to live a longer, higher quality life or not? Some people say, "I don't care, I'm going to eat my cheeseburgers." Those are not the people this book is addressed to. Obviously.
Also of Interest

Join AARP: Savings, resources and news for your well-being
See the AARP home page for deals, savings tips, trivia and more