Football Legend Dan Marino Passes His Knowledge to Members as AARP's New Ambassador
By Jen Martin, April 23, 2012 01:29 PM
"There's a lot of life ahead of you and a lot of things to accomplish after 50. You have to take advantage of it," said NFL star and Hall of Famer Dan Marino Monday on CBS This Morning.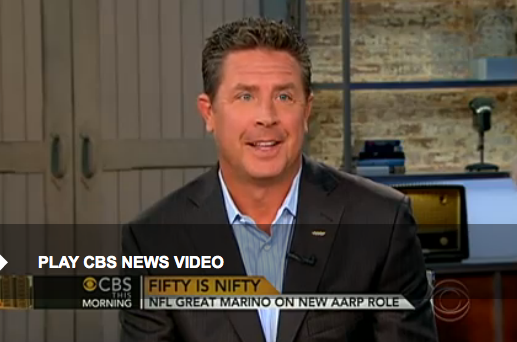 Marino, who turned 50 last year, ( watch him receive his AARP card here) announced his new role as AARP's "Men's Life Ambassador." In this role, Marino will share his point of view and expertise on a variety of men's interests including health, fitness, sports, lifestyle, entrepreneurship, aging and community service, primarily through the website.

I'll help "create awareness and when you turn 50 there's new challenges and things you can do. It's not the end," Marino said.

While Marino is considered one of the sport's greatest passers, it's his plays off the field that are just as impressive. In 1992, he and his wife Claire established the Dan Marino Foundation, whose mission is "opening doors" towards independence for children and young adults with autism and special needs by creating awareness and opportunities.

"At the end of the day, age is really just a number and I want to help people-no matter what life stage they're in-realize that they can be healthy, stay fit, explore their interests and passions, and enjoy the many opportunities they have in life, in the years to come," he said to AARP.

You can learn more about Marino's involvement with AARP here. Be sure to also follow him on Twitter at @DanMarino.




What are some of your memories of Dan Marino? What type of fitness questions would you have for the football legend?