Forget Cupcakes. Now It's Cronuts We're Craving
By Candy Sagon , July 03, 2013 01:48 PM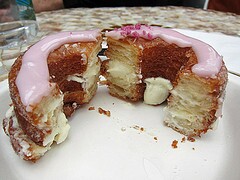 The latest craze in cute, sugary, hand-held treats? The Cronut, a croissant-doughnut hybrid invented by Dominique Ansel of Dominique Ansel Bakery in New York.
It's fried like a doughnut, but has the flaky, buttery layers of a croissant, according to the bakery's Cronut 101. The food blog TheKitchn has a mouthwatering photo of a pink-iced, blackberry-filled Cronut and photos of the line around the block to buy them.
The bakery only makes a limited amount of the $5 treats each day, which has spurred a $40-a-pop black market for the pastries, according to Fox News, as well as lots of imitators and haters.
Since the sweet treat was unveiled in May, dozens of Cronut-like pastries have popped up under such names as "Doissants," "Crognets," "Dough'Ssants" and "Cro-Nots." Ansel, who has trademarked his creation, says his bakery has even gotten threatening emails from competitors.
How many calories does a Cronut have? (Do you really want to know?) Ansel's not saying exactly, but he told the Huffington Post that he uses loads of butter in the dough, injects a cream filling in the middle, glazes the top, fries them in grapeseed oil and rolls them in sugar. Obviously, no one's idea of a healthy snack.
To see how to make your own version at home using Pillsbury crescent rolls, check out this video by Serious Eats, courtesy of the Huffington Post.
Photo: flickr.com
Also of Interest

Join AARP: Savings, resources and news for your well-being
See the AARP home page for deals, savings tips, trivia and more