George W. Bush Gets Heart Stent for Blockage
By Candy Sagon , August 06, 2013 12:48 PM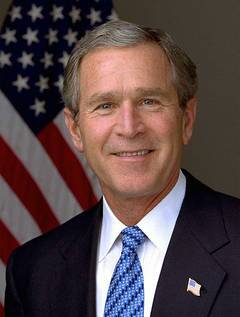 Former president George W. Bush is a physically fit guy, an avid bicyclist, and -- unlike his post-presidential pal Bill Clinton -- has never had a weight problem. So why would he need a heart stent?
Because, say cardiologists, "even very active people" can develop heart disease if they have other risk factors, according to Samin Sharma, M.D., a cardiologist at Mount Sinai Medical Center in New York who was not involved in the former president's care, but who specializes in treating artery and heart valve blockages.
On Tuesday, Bush underwent a successful operation in Dallas to have a stent inserted after a routine exam found a blocked heart artery.
According to a statement by Bush spokesman Freddy Ford, doctors discovered the blockage on Monday during Bush's annual physical exam at Dallas' Cooper Clinic. He then underwent surgery on Tuesday morning at Texas Health Presbyterian Hospital, the statement said.
The 67-year-old former president was expected to resume his normal schedule on Thursday, Ford said. Bush and his wife, Laura, have lived in Dallas since leaving the White House in 2009.
Stents are tiny metal tubes inserted into an artery to keep it open after a fatty blockage occurs. The procedure involves an angioplasty, in which a catheter is used to thread a balloon into the clogged artery. Once the balloon is inflated and the obstruction cleared, the stent is put in place.
Sharma says heart disease can develop even in relatively healthy people if they have other risk factors, such as family history, a past history of smoking or high cholesterol. It may be mild at first and not involve a heart attack. Medication is usually prescribed for a mild to moderate blockage, but more severely clogged arteries require a stent, Sharma said in an email.
Bush, the country's 43rd president, has no previous history of heart trouble, according to the Associated Press.
Photo: commons.wikimedia.org