Gimme a Flu Shot and a Carton of Milk: Retailers Aim For Your Arm
By Candy Sagon , September 23, 2011 08:00 AM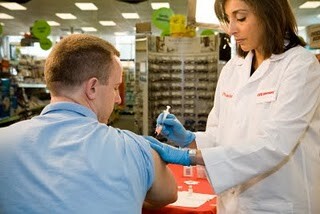 Pharmacies and supermarkets want to make it easy for you to get your flu shot this year, so they're offering expanded clinic hours and even discounted groceries and coupons to get you to come in.
The reason is pretty obvious: They're hoping you'll buy a few other things while you're in the store. Plus, they make a tidy little profit margin on each shot -- 30 to 50 per cent, according to the Wall Street Journal.
Among the flu shot incentives being offered shoppers: Major pharmacy chains like CVS, Walgreens and Rite-Aid are offering shots daily with no appointment needed. Rite-Aid is also offering a booklet of discount coupons to their flu shot customers.
Get your shot at Safeway, and you'll get a 10 percent-off coupon on future shopping trips. Southeast grocery chain Winn-Dixie is giving out free items this month, like apples, orange juice and hand sanitizer, while national chain Supervalu is offering a coupon book of $45 worth of deals on various grocery items to shot shoppers.
The additional good news for consumers is that there will be ample supply of vaccine this year, as well as some new choices, including a tiny needle that doesn't hurt as much, and a high-dose version for those 65 and older.
The goal, say public health officials, is to increase the number of people getting vaccinated against the flu virus.
A new poll by Consumer Reports National Research Center found that only 45 percent of Americans were vaccinated against seasonal flu last year.
Older Americans, the group at greatest risk for complications if they get the flu, had the highest vaccination rate -- 60 percent of those age 55 to 64 got the seasonal flu shot, and 63 percent of those over 65 were vaccinated -- but the rate was much lower for those younger.
So here's the question: Given how easy it is to grab some milk and a flu shot, and knowing how dangerous the flu can be, particularly if you have other health problems, why the heck don't more people get vaccinated?
The most common excuse -- given by 60 percent in the Consumer Reports poll -- was "(I) believe in building natural immunities." This makes little sense because flu viruses change from year to year, the U.S. Centers for Disease Control and Prevention says.
Forty-one percent were convinced they "don't get the flu" (otherwise known as wishful thinking) and 38 percent figured that even if they did get the flu, "medicine and other remedies can treat (it)." Unfortunately, the only anti-viral medications available merely shorten the duration of the flu by a day or two, and only if they're started within two days of when symptoms start.
And then there were the wimps: About 25 percent of those surveyed said they didn't get a flu shot because they "do not like getting shots."
For them, we have two words this season: Tiny. Needle.
From AARP

Photo credit: hplcareer.blogspot.com