Beware The Fair: Swine Flu Cases From Pigs Increasing
By Candy Sagon, August 6, 2012 08:00 AM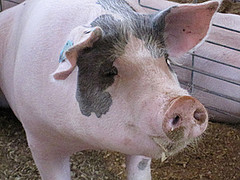 Updated Aug. 10:

It's the season for visiting the local fair, but it might be safer checking out the blue-ribbon pies instead of the pigs: Federal health officials report a "big increase" in the number of people with swine flu after coming in close contact with sick pigs at county or state fairs.

The Centers for Disease Control and Prevention say there are now 145 cases of the new H3N2 swine flu since July 12 -- a significant jump from the prior week's 12 confirmed cases, officials reported Thursday.

"We're seeing a big increase, and we think it's a real increase," said CDC flu epidemiology chief Joseph Bresee during a news conference.

Health officials in Indiana said this week that they had confirmed 113 cases of this strain of flu -- a tenfold rise in a week -- and they expect to see more.

Health officials advised that adults 65 and older, children under five, or those with weakened immune systems, "consider avoiding exposure to pigs and swine barns this summer, especially if sick pigs have been identified."

Up until now, the CDC had only tallied 30 cases in the past year, including 10 coming from a county fair held earlier this month in southwest Ohio, according to the Los Angeles Times.

Swine flu is marked by fever, coughing, sneezing and aches. In the past year, three people, at high risk for complications from the flu, required hospitalization, but all infected people recovered, the CDC said.

See also: Play 'Healthy Living' trivia for a chance to win a trip for two at the Red Mountain Resort in Utah!

This particular strain of swine flu is still largely a swine virus, limited to pigs, but it does share a gene with the H1N1 strain that caused the 2009 pandemic.

However, there is no evidence yet suggesting humans can pass the illness to one another, the CDC's Bresee said.

People can catch flu from pigs by breathing in virus-containing droplets expelled into the air by a sick pig's cough or sneeze, or by touching a surface that has the virus on it and then touching their own mouth or nose.

To be safe, the CDC recommends that people should wash hands frequently with soap and running water after exposure to animals and avoid eating in animal areas.

In other health news:

Americans smoking fewer cigarettes, more cigars. The CDC reports that while Americans are smoking fewer cigarettes, the use of pipes and cigars has jumped dramatically, according to MedPageToday. One of the biggest reasons for the change is because taxes on noncigarette forms of tobacco are lower.
Avoiding lies can improve your health, study finds. Honesty may boost your health, suggests a study that found telling fewer lies benefits people physically and mentally, USA Today reports. The study of adults aged 18 to 71 found that health went down as the number of lies went up, and vice versa.
Listeria fears expand cantaloupe recall. NBCnews.com reports that federal health inspectors have found unsanitary conditions at a North Carolina cantaloupe packing shed, leading to an expanded recall of melons that may be potentially contaminated with listeria. Nearly 190,000 melons have been pulled from stores in 10 states because of possible contamination that can cause illness and death, particularly in the very young, the very old, pregnant women and those with health problems.
Photo credit: Courtesy wattpublishing via flickr.com