Pumpkin Power: 50 Million Pies, Pet Food, Beer and More
By Candy Sagon , October 31, 2011 08:00 AM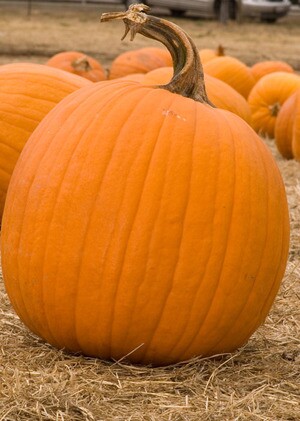 Americans just can't get enough of pumpkin. Everything about those gorgeous gourds -- the flavor, the canned variety, the monstrously big ones, the pet remedy -- is hot this season.
Here are some surprising facts and recent trends concerning our favorite orange orb:
* Have your pumpkin pie and feel healthy, too: Pumpkin is a super-food for older adults, rich in vitamins and high in potassium, which recent research says helps reduce stroke risk. The Mayo Clinic says plain canned pumpkin (not pre-sweetened pumpkin pie filling) is nutritionally equal to the fresh stuff -- and a lot easier to use in recipes. It's even become a popular remedy for dogs to treat everything from constipation to diarrhea to weight problems.
*Plenty of canned pumpkin this year: Fortunately, there won't be a return of the dreaded 2009 canned pumpkin shortage due to heavy rain that ruined the crop, or even last year's slightly lower number of cans. This year, the canned pumpkin supply should meet market demand, says a spokeswoman with Libby's, which supplies 80 percent of U.S. canned pumpkin.
* Pumpkin is showing up on menus everywhere: It's not just pie -- Americans love pumpkin in everything from pancakes to risotto. Sales of seasonal pumpkin beer also have been surging. Last year, there was a 161 percent increase in the number of pumpkin-based foods and beverages on seasonal menus, reports Mintel Menu Insights, a market research firm that tracks 1.5 million menu items nationally.
*The race to grow a one-ton pumpkin: Talk about a Great Pumpkin! Last year, a world-record 1,810-pound pumpkin (about 200 pounds heavier than a Smart car) was grown and this year pumpkin fanatics are aiming even bigger, the New York Times reports. The growers even have their own club, although the requirement of growing a 1,400-pounder recently had to be upped to 1,600 pounds "because of escalating competition," the club founder said.
*The answers are Morton, Ill., 100,000 tons, and 50 million pies: And the questions are -- where is 80 percent of all U.S. pumpkins grown? How much is processed and canned from the end of August through September? And how many pumpkin pies will Americans bake this fall?
*Speaking of pie, this favorite is 61 years old: The pumpkin pie recipe on the Libby's canned pumpkin label was introduced in 1950 and is still a reliable favorite. Click here for the recipe. Click here for a version from Cooking Light that no one will guess is lower in fat.
*Millions of pumpkin spice latte fans. Starbucks began selling pumpkin spice lattes in 2005 and saw sales soar. Every September since then, million of PSL fans await their favorite seasonal drink. This year, Starbucks had a competition on Facebook to see which city could earn the most points and get the drink introduced a week early. Latte-lovin' Chicagoans won with 10.6 million points.
*The great pink pumpkin? Orange is still the most popular color for pumpkins, says Ron Wolford, a horticulture educator with the University of Illinois, "but over the last few years pumpkins in shades of red, white, grayish blue and green have come on the market. Researchers are working on developing a pink pumpkin." (Do the breast cancer people know about this?)
Photo credit: Bookbuilder.cast.org