In Surgery, Failing 'No Sponge Left Behind'
By Candy Sagon , December 21, 2012 11:05 AM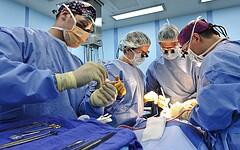 Here's a scary statistic: A surgeon in the U.S. leaves a foreign object, such as a sponge or towel, inside a patient's body after an operation 39 times a week.
Even scarier, surgeons perform the wrong procedure on a patient 20 times a week and operate on the wrong body site 20 times a week, according to an analysis of national malpractice claims by patient-safety researchers at Johns Hopkins University in Baltimore.
Researchers also found that patients 60 or older were significantly more likely than younger patients to die from one of these hospital errors.
The researchers, reporting online in the journal Surgery, say they estimate 80,000 of these so-called "never events" occurred in American hospitals between 1990 and 2010 - and believe their estimates are likely on the low side, notes a university statement.
These mistakes "are totally preventable. This study highlights that we are nowhere near where we should be and there's a lot of work to be done," said study leader Marty Makary, M.D., an associate professor of surgery at the Johns Hopkins University School of Medicine.
These errors are also dangerous, writes Sarah Kliff in the Washington Post. When researchers looked only at the data from 2004 through 2010, they found that 6.6 percent of patients experiencing one of these "never events" subsequently died. A third had a permanent injury, and 59 percent had a temporary injury, Kliff reports.
Plus, as Makary points out in the study, the actual number of these surgical lapses may be much higher because researchers looked only at data from malpractice claims.
Makary and his colleagues found that these mistakes occurred most often among patients between the ages of 40 and 49, and surgeons in this same age group were responsible for more than one-third of the events, compared with 14.4 percent for surgeons over age 60.
Studies show that sponges - used to soak up blood - are the item most often left behind. The problem, say experts, is that many hospitals rely on the old-fashioned method of having a nurse keep a manual count, as the New York Times reported. But during a long, complex operation, miscounts can occur.
Technology has come up with some solutions - sponges with bar codes that are scanned to keep count, or sponges with a tiny radio-frequency tag, about the size of a grain of rice, that alerts the surgical team if a sponge is still inside a patient. The tag system would add only $10 to each surgical procedure, according to the Times. A University of North Carolina study published in the Journal of the American College of Surgeons found that the special sponges helped recover 23 forgotten sponges from almost 3,000 patients over 11 months.
There are even inexpensive "counter bags," the Times reported, with little pouches for each sponge. At the end of an operation, if one pouch is empty, it means a sponge was left behind. An electronic tracking system then helps locate the sponge.
But many hospitals have resisted using new technologies or methods, even though groups like the Association of periOperative Registered Nurses and the American College of Surgeons have urged hospitals to change their practices.
As the Johns Hopkins researchers write, hospitals "trail behind other high-risk industries" in using systematic approaches to identify and reduce "these preventable and costly events."
Photo: Commander, U.S. 7th Fleet /flickr