In The Raw: The Culprit In Cookie Dough Contamination
By Candy Sagon , December 12, 2011 09:00 AM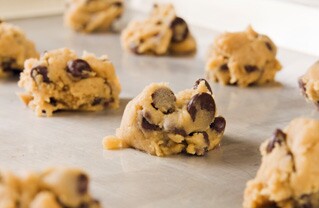 Holiday baking is in full force, but don't be tempted to nibble on that raw cookie dough. Especially you, ladies.
Two years ago, eating Nestle Toll House raw cookie dough sickened 77 people in 30 states, most of them women and adolescent girls.
It was the first time packaged cookie dough had ever caused food poisoning.
Now a lengthy investigation into that outbreak has found a likely -- and surprising -- culprit: The flour.
After Nestle recalled 3.6 million packages of its ready-to-bake chocolate chip dough in 2009, both the company and the Centers for Disease Control and Prevention began investigating exactly how the product had become contaminated with E. coli bacteria.
Last year, the company reported at a scientific conference that extensive testing had found some evidence that it was the flour, reported Food Safety News.
And last week, the flour was also named the likely culprit in a report on the outbreak in the journal Clinical Infectious Diseases.
Karen Neil, MD, an epidemiologist with the CDC, and her colleagues ruled out the dough's other ingredients because they all had been heat-treated to kill pathogens, including the eggs, which were pasteurized. Only the flour was raw.
The study's authors point out that the directions on the cookie dough package say to bake it before eating, but obviously eating raw cookie dough is popular -- "especially among adolescent females," they wrote.
Two-thirds of those sickened were under 19, 71 percent were female. Some even admitted to investigators they bought the dough just to eat it raw.
Nestle is now using heat-treated flour in its dough, but the study notes that all manufacturers ought to make sure their dough is safe to be eaten before baking -- even though they wish you wouldn't.
They also say that "more effective consumer education about the risks of eating unbaked cookie dough is needed."
So here you go: Stop eating that raw cookie dough. Bake first. Then nibble.
From AARP

Photo credit: Planetgreen.discovery.com