It's Never Too Late: Quit Smoking Now For the Sake of Your Health, Your Wallet, Your Pets
By Alejandra Owens, November 16, 2011 09:44 AM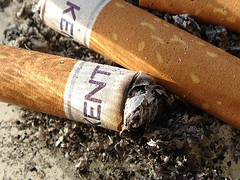 Tomorrow is the Great American Smokeout, a day when smokers are encouraged to quit or to make a plan to quit smoking.

Tobacco use remains the single largest preventable cause of disease and premature death in the U.S., yet more than 46 million Americans still smoke. However, according to the Center for Disease Control and Prevention, 68.8 percent of current smokers want to completely stop smoking and 52.4 percent of smokers made a quit attempt in the past year.

The good news is that it's never too late to quit. Anyone can benefit from quitting smoking.
Get healthier
Older adults who quit smoking will reap many health benefits:

Circulation improves immediately, and the lungs begin to repair damage.
In one year, the added risk of heart disease is cut almost in half, and risk of stroke, lung disease, and cancer diminish.
Among smokers who quit at age 65, studies have shown that men may gain 1.4 to 2.0 years of life and women may gain 2.7 to 3.7 years.
Save money
An extra $2,025 a year would be pretty great, wouldn't it?

That's how much a pack-a-day smoker will save when they quit, based on an average per-pack cost of $5.55.

Calculate how much money you're spending every year on cigarettes.

Keep your pets healthy
Studies have shown that secondhand smoke causes thousands of deaths among otherwise-healthy non-smokers each year. But smoke isn't just dangerous to humans; it can harm your pets, too. Studies indicate secondhand smoke is associated with oral cancer and lymphoma in cats as well as lung and nasal cancers in dogs.

How do you start?
Quitting is hard, but you can increase your chances of success with help. Call the American Cancer Society at 1-800-227-2345 or find free tips and tools on their website.

Bonus: If you want help quitting smoking, some new Medicare rules may help you. Find out more in tomorrow's AARP Bulletin.

Photo credit: macronix on Flickr