Juicy News: Citrus May Cut Stroke Risk, But Beware of Grapefruit
By Candy Sagon, February 27, 2012 08:00 AM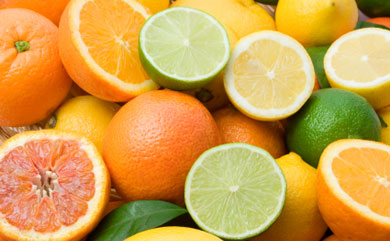 Lots of citrusy health news recently: Researchers say a nutrient in vitamin C-rich fruits like oranges, tangerines and grapefruit may help lower women's risk of stroke, but beware -- the Food and Drug Administration also just issued a reminder that fresh grapefruit and grapefruit juice can interfere with some prescription and nonprescription drugs.

According to a new study published last week in Stroke: Journal of the American Heart Association, women who ate the most citrus fruit had a 19 percent lower risk of stroke than did women who ate the least.

The study was examining how flavonoids, a compound found in fruits, vegetables, dark chocolate and red wine, can affect health. Flavonoids are thought to improve blood vessel function and have an anti-inflammatory effect. Researchers found that women who got most of their flavonoids from citrus fruit had a lower risk of ischemic, or blood clot-related, stroke.

"Studies have shown higher fruit, vegetable and specifically vitamin C intake is associated with reduced stroke risk," lead author Aedí­n Cassidy, a professor of nutrition at Norwich Medical School in Norwich, United Kingdom, said in a prepared statement.

Cassidy and colleagues used 14 years of follow-up data from the Nurse's Health Study, which included 69,622 women who reported their food intake, including details on fruit and vegetable consumption, every four years.

In the study, the women primarily consumed oranges and orange juice (82 percent) and grapefruit and grapefruit juice (14 percent). However, researchers recommended that consumers increase their citrus fruit intake, rather than relying solely on juice, due to the high sugar content of commercial fruit juices.

But before you dig into that half a grapefruit, the FDA says you need to be aware that the fruit can interact with some medications.

Here are some types of drugs that can be affected by consuming grapefruit, according to the FDA:

some statin drugs to lower cholesterol, such as Zocor (simvastatin), Lipitor (atorvastatin) and Pravachol (pravastatin)
some blood pressure-lowering drugs, such as Nifediac and Afeditab (both nifedipine)
some organ transplant rejection drugs, such as Sandimmune and Neoral (both cyclosporine)
some anti-anxiety drugs, such as BuSpar (buspirone)
some anti-arrhythmia drugs, such as Cordarone and Nexterone (both amiodarone)
some antihistamines, such as Allegra (fexofenadine)
Grapefruit juice does not affect all the drugs in the categories above. Health officials recommend that you ask your pharmacist or other health care professional to find out if your specific drug is affected.

In other health news:

Study links high fiber diet to healthy gums in older vets. U.S. researchers who followed healthy male veterans for up to 24 years found that older men who ate more high-fiber fruits were less likely to show signs of gum disease, Reuters reports. For more than 600 men participating in a long-running Veterans Affairs dental study, each serving of high-fiber food was linked to an almost 30 percent lower likelihood of lost teeth and a 24 percent lower risk of bone loss associated with receding gums.

Medicare covers yoga-and-diet program for heart disease. The Dean Ornish Program for Reversing Heart Disease -- which teaches a plant-based, meatless diet, meditation and regular exercise -- is now covered by Medicare. The program, which President Bill Clinton turned to after having two major heart surgeries, was officially declared an intensive cardiac rehab program in 2010, and the first patients started in May 2011, according to CNN.

A shift from nursing homes to managed care at home. Faced with soaring health care costs and shrinking Medicare and Medicaid financing, nursing home operators are closing some facilities and embracing an emerging model of care that allows many elderly patients to remain in their homes and still receive the medical and social services available in institutions, the New York Times reports.

Photo credit: vegnews.com