Looking for a Medicare Doctor? New Ratings Can Help
By Tamara Lytle, February 24, 2014 11:32 AM
Medicare patients have new help in picking a doctor, the federal government recently announced. Quality ratings for medical practices have been added to Medicare's Physician Compare website, a national list of physicians and other health care providers who accept Medicare.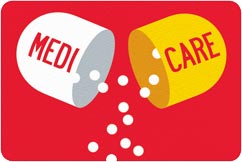 "Patients and their families need facts to help them in making important decisions about health care, and choosing the right physician is one of the most important decisions they face," says Marilyn Tavenner, the administrator of the Centers for Medicare & Medicaid Services.

That doesn't mean you can look up every doctor, however, or check how they're doing treating every ailment. For starters, the measures focus on diabetes and heart disease. And the website rates practices of 25 providers or more as "accountable care organizations," not individual doctors. (Medicare plans to add ratings of individual providers next year.)

But it's a good start, according to Cristina Boccuti, a senior associate on Medicare policy at the Henry J. Kaiser Family Foundation. The information is part of a larger trend in health care emphasizing quality. Some doctors have expressed concern that ratings don't give the whole story - a practice focused on patients with complicated medical problems, for example, might have lower scores because of that, Boccuti points out. But the ratings focus on health outcomes, which is important.

Some of the first quality measures include how well doctors control blood sugar levels and blood pressure in diabetics, and whether they are prescribing appropriate medications for heart patients.

"It helps highlight the outcomes a patient should want," Boccuti says.

Boccuti adds that Medicare patients, in time, will also see ratings that cover waiting times and how well providers communicate with patients.

How to Find a Doctor in Medicare:

When you're about to start using Medicare, a major concern is whether your current doctors will accept your new coverage. And even if you're already in Medicare, there may be times when you need to find another physician who takes Medicare. If so, here are some things to consider:



If possible, research your options some time before your Medicare coverage begins. Decide whether you want to enroll in the original Medicare program or join a Medicare Advantage plan, such as an HMO or PPO, because this makes a big difference to your choice of doctors and other providers. As your current doctors whether you can continue as their patient after you transition to Medicare.
If you enroll in original Medicare, you can go to any doctor who accepts Medicare anywhere in the U.S. If you need to find a primary care doctor or specialist, consult the Physician Compare website. Before making an appointment, call to confirm the doctor is still taking new Medicare patients. Instead of going online, you can also call Medicare at 800-633-4227 (or TTY 877-486-2048) and ask a representative to assist you in your search.
Before joining a Medicare Advantage plan, ask your current doctors if they accept the plan's coverage. If not, call the plan or visit its website to see a list of the doctors included in its provider network in your area. If the plan is an HMO, you usually must go to doctors who are in its network and service area. If the plan is a PPO, you can usually go out of network by paying a higher co-pay.
If you're in original Medicare and your doctor opts out of the program, be aware that Medicare will not cover the care you receive from that doctor, nor will Medigap supplemental insurance. If you want, you can enter into a private contract with the doctor and pay for services out of pocket. Ask if the doctor offers discounts to patients paying the full cost.
If you're in a Medicare Advantage plan and your doctor leaves the plan's network, you need to switch to a doctor who remains with the plan. Check with your plan and current doctor about the possibility of staying with that doctor until the completion of a course of treatment.
If you change doctors, arrange to have your health care records moved to the new doctor.


A Medicare plan's benefits and physician network can change each year and so may your needs. Whether you have traditional Medicare or Medicare Advantage, you can compare your options during the next open enrollment period from October 15 to December 7.