Migraine-Relief Tips: Even Sharon Stone Can Use These
By Candy Sagon , September 26, 2012 08:00 AM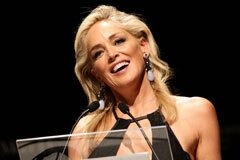 Debilitating migraines can stop just about anyone in their tracks, even Basic Instinct star Sharon Stone.
The glamorous 55-year-old actress, in Milan for fashion week and to chair an AIDS fund-raising gala, was admitted to a hospital with a migraine last Friday after attending a fashion show, Reuters reported.
By Saturday, however, she had recovered and was back in fine form - thanks to a slinky black halter dress the New York Times described as "nothing more than a bra top with a skirt attached by panels of fringe" - ready to chair a black tie benefit for an AIDS research foundation.
Glam aside, Stone isn't alone in suffering from the severe headaches. An estimated 36 million Americans experience migraines, according to the Migraine Research Foundation, with three times as many women being affected as men. In 2008, migraines sent more than 3 million Americans to the emergency room seeking relief, the most recent federal data shows.
Migraines can produce a variety of symptoms, including throbbing head pain, nausea, vomiting, changes in vision and extreme sensitivity to light and sound. The attacks can last from hours to days.
Some sufferers can get relief, or at least reduce the number of attacks, by using medication or stress-reduction techniques and/or making changes in their diet.
Those with the most severe cases sometimes opt for plastic surgery to remove tissue pressing on facial nerves. The Boston Globe recently wrote about a 57-year-old Rhode Island woman who got migraine relief from what was essentially an eyelid lift.
For other, less invasive techniques, the Huffington Post offers 15 natural ways to ease the pain.
Or check out Reader's Digest for 10 proven cures, plus a couple they warn that don't work. (Taking magnesium is one of them.)
Here's a sample:

Works for everyone: a very low-fat diet. In one study, participants who restricted their fat for 12 weeks had 40 percent fewer headaches, and when they did have them, they were 66 percent less severe and 70 percent shorter.
Also works: Options include vitamin B2 (400 mg. daily), feverfew (an herbal extract that offers mild relief), melatonin (taking it before bedtime helped reduce the number of migraines) and butterbur-based remedies; butterbur is considered one of the best safety-tested herbal products for headaches. The journal Neurology reported that those who took a butterbur product called Petadolex reduced the number of migraines by half.
In other health news:
Health officials keep eye on new virus from Middle East. NBCnews.com reports that global health officials are closely monitoring a new respiratory virus related to SARS that is believed to have killed at least one person in Saudi Arabia and left a Qatari citizen in critical condition in London.
Down syndrome may hold key to new Alzheimer's treatment. In a new approach to treating Alzheimer's, Johnson & Johnson is bankrolling a three-year pilot study of people with Down syndrome to identify the early changes that herald the dementia that afflicts up to 75 percent of these adults. According to Reuters, the goal is to study at least 1,000 people with Down syndrome, tracking them from an early age and eventually testing treatments to keep dementia from developing.
California to require doctors to inform women if mammogram shows they have dense breasts. The Los Angeles Times reports that California will join four other states - Connecticut, New York, Texas and Virginia - requiring doctors to tell a patient if a mammogram reveals she has dense breasts, a risk factor for breast cancer. The new law will go into effect April 1, 2013.
Photo: Vittorio Zunino Celotto/Getty Images