New Warning About Grapefruit and Pills
By Candy Sagon, November 29, 2012 08:00 AM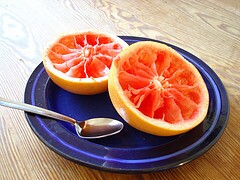 It's been known for some time that grapefruit juice can interact badly with some medications, but now Canadian experts warn that even more medications can cause these interactions - and the result, in some cases, can be deadly.

Researchers at the University of Western Ontario said that while 17 drugs were identified in 2008 as having the potential to cause very serious problems when taken with grapefruit, the number has now grown to 43. Thirteen drugs may be lethal when mixed with the tangy fruit.

The new research was published Monday in the Canadian Medical Association Journal.

Whole grapefruit, grapefruit concentrate or fresh grapefruit juice interact to some degree with 85 drugs overall, though not all have serious consequences, NBC News reported. Those that do, however, can cause problems that include acute kidney failure, respiratory failure, gastric bleeding - and worse.

"When I say sudden death, I'm not being sensational," study lead author David Bailey, a clinical pharmacologist at the Lawson Health Research Institute in London, Ontario, told NBC News.

The researchers noted that adults older than 45 buy the most grapefruit and take the most prescription drugs, making them the most likely to risk these interactions.

Many of the drugs involved are common ones, like statins to lower cholesterol, antibiotics and heart medication. Atorvastatin - commonly known by the brand name Lipitor and taken by millions of Americans - is one of the drugs that have been linked to serious cases of drug toxicity when combined with grapefruit products, ABC News reports.

Heart medications, including verapamil and amiodarone, have also led to serious interactions when consumed with grapefruit or grapefruit juice. The heart drug dronedarone, or Multaq, mixed with grapefruit can cause extreme irregular heartbeat.

Bailey and his colleagues were the first to discover the trouble with grapefruit more than 20 years ago, when they found that consuming it along with certain prescription drugs can concentrate the medication in a patient's bloodstream. Grapefruit contains chemicals called furanocoumarins, which interfere with how the body breaks down drugs before they enter the bloodstream.

Drinking less than a cup of grapefruit juice once a day for three days, for instance, can lead to a 330 percent concentration of simvastatin, or Zocor, the researchers reported. "I've seen a tenfold increase in some patients," Bailey told NBC News.
Just one grapefruit or an 8-ounce glass of grapefruit juice can cause an effect that may last more than 24 hours. Sweet orange varieties don't produce the same effect, but beware Seville oranges, limes and pomelos.

If you're a grapefruit or citrus fruit lover, be sure and ask your pharmacist or doctor about any possible interactions the fruit could cause with prescription medications you're taking.

For a list of medications that interact with grapefruit products:

ABC News includes a list of the drugs in its story (click here). So does Canada's CBC News.
For the study's complete chart of medications, their degree of interaction, and suggested alternative drugs, click here for a pdf version from NBC News.


In other health news:

Prices of brand name drugs soar, generics drop. The New York Times reports that the prices of brand-name prescription medicines are rising far faster than the inflation rate, while the prices of generic drugs have plummeted, creating the largest gap so far between the two, according to a report published Wednesday by the pharmacy-benefits manager Express Scripts.

Medicare faulted on shift to electronic medical records. A government report issued today sharply criticizes Medicare on its shift to electronic medical records, saying it has failed to put in place adequate safeguards to ensure against fraud and abuse, reports the New York Times.

Simple measures cut infection rates in hospitals. The Associated Press reports on a project that helped hospitals reduce surgery-linked infections by a third with some simple measures: having patients shower with special germ-fighting soap before surgery and having surgery teams change gowns, gloves and instruments during operations to prevent spreading germs picked up during the procedures.



Photo: sophie.z.j. via flickr