Nonsmoking Hotel Rooms Still Contain Smoke
By Candy Sagon , May 20, 2013 07:30 AM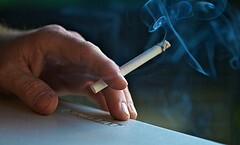 If you think the air in your nonsmoking hotel room is free of smoke residue, think again: If a hotel allows smoking in any of its rooms, the smoke will permeate everywhere, including nonsmoking rooms, a new study shows.
Nicotine residues and other chemical traces "don't stay in the smoking rooms," lead researcher George Matt, chairman of the psychology department at San Diego State University, told USA Today. "They end up in the hallways and in other rooms, including nonsmoking rooms," he said.
The study, published last week in the journal Tobacco Control, found smoke residue on surfaces and in the air of both smoking and nonsmoking rooms in 30 California hotels where smoking was allowed. Levels were highest in the smoking rooms, but levels in nonsmoking rooms were much higher than those found at 10 smoke-free hotels.
Even the hallway surfaces outside of smoking rooms showed higher nicotine residue than the hallways outside of nonsmoking rooms, the researchers wrote.
Volunteers who stayed overnight in the smoking hotels ended up with nicotine residues on their fingers, whether or not they stayed in smoking rooms. Urine tests found additional evidence of nicotine exposure in those who stayed in hotels that allowed smoking, though not in those who stayed in the smoke-free hotels, according to the study.
Smoke-free hotels are becoming more common, yet they're not as common as smoke-free restaurants and bars. Only four states - Indiana, Michigan, North Dakota and Vermont - have laws banning smoking in hotels, Matt said.
The American Nonsmokers' Rights Foundation told USA Today that many large chains, including Marriott, Westin and Comfort Inn, have gone smoke-free. But a recent survey by a hotel trade association found that only 39 percent of economy hotels ban smoking.
For travelers with breathing problems who are trying to avoid any secondhand smoke residue, staying in a nonsmoking room in a hotel that also has smoking rooms may not be a wise choice. Seek out completely smoke-free hotels instead.
As Matt told the New York Times, "Smokers leave a legacy behind that they cannot control." The tobacco residues permeate the fabrics, the blankets, the upholstery, the drywall "and you can't just take them out."
Photo: Drongowski/flickr
Also of Interest

Join AARP: Savings, resources and news for your well-being
See the AARP home page for deals, savings tips, trivia and more