Permanent Fix for Medicare Payments to Doctors Moves to Obama
This post was updated April 21, 2015.

President Barack Obama signed into law on April 21 a permanent solution to a problem that has plagued the Medicare system for years. Doctors never knew whether the payments they received for treating Medicare beneficiaries would suddenly drop, making it difficult for them to make long-term business plans and causing some to stop taking Medicare patients altogether. Obama once compared the flawed payment formula to a "guillotine" hanging permanently over doctors' heads.

Approving the measure 92-8 on April 14, the U.S. Senate acted to repeal an 18-year-old law that would have slashed Medicare payments to doctors by 21 percent — a measure that has prompted many doctors to flee Medicare. The House passed the bipartisan bill in March.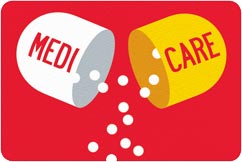 Jo Ann Jenkins, AARP CEO, said that the association had advocated for repeal for many years so that "Medicare beneficiaries can rest assured that they'll be able to keep seeing their physicians each year."

The American Medical Association was among many other groups that have long urged repeal. "Passage of this historic legislation finally brings an end to an era of uncertainty for Medicare beneficiaries and their physicians," AMA CEO James Madara said in a statement. "Patients will be able to get the care they need and deserve."

The uncertainty originated in 1997, when Congress passed a deficit reduction law requiring that payments to doctors be cut when Medicare spending exceeded a certain level for three years in a row. That day inevitably dawned in 2002. But Congress never implemented the cuts, opting instead to pass a series of temporary measures known as "doc fixes" — 17 times between then and now.

The repeal, though, also brings other effects for Medicare beneficiaries. The higher-income surcharge that requires wealthier people to pay higher premiums will be increased for top earners whose modified adjusted gross income (MAGI) on their tax returns is greater than $133,500 for single people or $267,000 for married couples. Currently, these groups pay up to $371.70 a month for Part B benefits (which cover doctors' services, outpatient care and medical equipment), compared with the standard Part B premium of $104.90 a month. Premiums for Part D prescription drug coverage will also increase for these highest-income groups.

Get the latest tips on protecting your health — AARP Health Newsletter. »

The repeal legislation also requires people with private Medicare supplemental insurance (known as Medigap) to meet the Part B deductible before coverage kicks in. In 2015, the deductible is $147 a year for Part B.

AARP's Jenkins expressed disappointment that the Senate did not also approve an amendment to the bill that would have removed the current annual dollar cap on Medicare coverage for therapy services. "Many Medicare patients, particularly stroke victims and people with Parkinson's and multiple sclerosis, would have benefited," she said. "As a majority of the Senate agreed with the amendment, we will continue to work to remove this arbitrary coverage cap."

See how your senators voted on the Cardin-Vitter "Seniors' Amendment" by going to U.S. Senate Roll Call.

Also of Interest



See the AARP home page for deals, savings tips, trivia and more.