'Poop Pills' May Halt Severe Gut Infection
By Candy Sagon, October 7, 2013 11:34 AM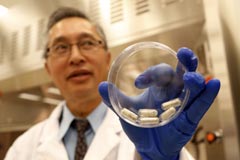 Yes, we know it sounds icky. But for patients with a type of severe, recurrent intestinal infection, a pill containing healthy fecal bacteria seems to effectively halt the infection - sometimes in just a day - by replacing the "bad" bacteria with "good" ones.

Despite their nickname, the pills aren't actually filled with, well, you know.

They're filled with the important stuff - the naturally occurring intestinal microbes that keep everything in balance and help a healthy body fight off infection.

Sign up for the AARP Health Newsletter

For patients with Clostridium difficile, or C. diff, their healthy microbes have been wiped out by antibiotic use, which has allowed a bacterial infection to set in, causing inflammation of the intestine and painful, sometimes life-threatening diarrhea.

But in a new Canadian study of 32 patients with recurrent C. diff , all but one who took the pills suffered no more bouts of the difficult-to-cure condition.

Half a million Americans get C. diff infections each year, and about 14,000 die, reports the Associated Press. The infection is becoming more common, especially among hospitalized elderly and children, according to the Mayo Clinic.


A fecal transplant, in which the intestine is basically reseeded with healthy bacteria from a donor who's related to the patient, has proven extremely effective.

But infectious disease specialist Thomas Louie, M.D., of the University of Calgary in Alberta, said the "yuck factor" was keeping doctors from offering the treatment to patients, the Los Angeles Times reported.

Louie's ingenious idea: an odorless gelatin capsule filled with the compacted fecal microbes from a healthy family member. "There is no smell. We basically have a little cubette of microbes, and we pour it into the capsules," he said at IDWeek, a conference on infections diseases held last week in San Francisco.

Up to now, fecal transplants have been given through expensive, invasive procedures like colonoscopies or throat tubes, the Associated Press reported. Doctors have also tried adding the healthy bacteria via enemas, but this didn't always work.

Get Health and Wellness Discounts with your AARP Member Discounts today.

Louie, who has performed fecal transplants since 1996, said "a light dawned on me" in 2010 to try using pills. He filters and distills the microbes from the donated fecal matter and compacts them into triple-coated gel pills that don't dissolve until they reach the stomach.


As Louie explained, the subjects - all of whom had at least four recurrences of C. diff - needed only a single day of treatment. After swallowing 24 to 34 capsules on an empty stomach, they were told to "go home and have lunch."
Margaret Corbin, 69, a retired nurse's aide from Calgary, told of the misery of having C. diff before trying Louie's treatment, the Associated Press reported.
"It lasted for two years. It was horrible. I thought I was dying. I couldn't eat. Every time I ate anything or drank water I was into the bathroom," she said. "I never went anywhere. I stayed home all the time."
With her daughter as the donor, she took pills made by Louie two years ago, and "I've been perfectly fine since," Corbin said.
Curtis Donskey, M.D., an infectious disease specialist with Case Western Reserve University and the Cleveland Veterans Affairs Medical Center, who has performed fecal transplants through colonoscopies, told the Associated Press that Louie's pills were "completely novel - no one else has done this."
"I am optimistic that this type of preparation will make these procedures much easier for patients and for physicians," he added.
Photo: Jeff McIntosh/The Canadian Press/AP Images



Also of Interest



See the AARP home page for deals, savings tips, trivia and more