Look at Men's Health Week This Father's Day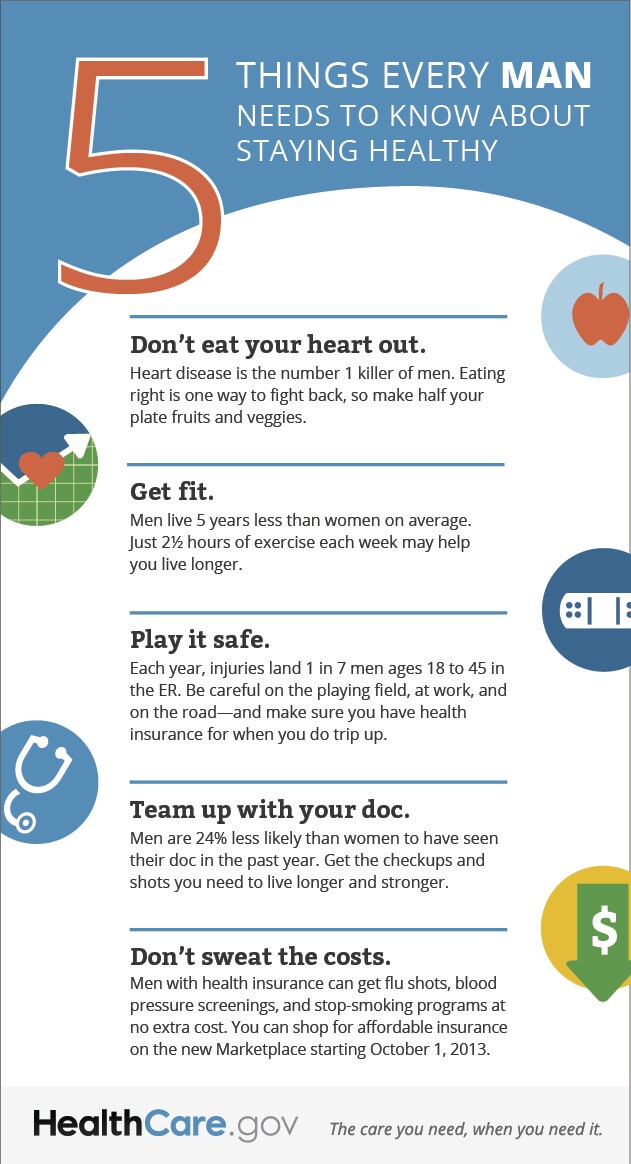 The following is a guest post by Health and Human Services Deputy Secretary Bill Corr
Men, don't wait for a wakeup call when it comes to your health
By HHS Deputy Secretary Bill Corr
As a group, we men are not known for doing a very good job of taking care of our own health.
National Men's Health Week, from June 10 through Father's Day on June 16, is a good time for us to start taking responsibility and doing what's needed to stay healthy and active. That means eating right, taking the time to exercise, and-yes-talking to our doctors about what checkups we need.
Many health problems are preventable or more easily treated if we're proactive about our health. The good news is the Affordable Care Act ensures that most health insurance plans cover recommended preventive services at no out-of-pocket cost.
Some of these services that are particularly important to men ages 40 to 64 include blood pressure and cholesterol checks, flu shots and tobacco cessation services.
Make sure your fathers, grandfathers, friends and uncles on Medicare know that they are eligible for these and other preventive services such as a yearly wellness visit, with no co-pays or deductibles.
Also See: AARP's Health Law Answers
On October 1, 2013, there will be a new way for men to find affordable, quality health insurance through the Health Insurance Marketplace. You will be able to compare private insurance plans at the new Health Insurance Marketplace on HealthCare.gov and purchase the one that best suits your needs and wallet, for coverage starting January 1, 2014. You will also be able to use the same website to find out if you're eligible for free or lower-cost coverage.
Beginning next year, you can't be turned down or charged more because of a pre-existing condition, such as diabetes, asthma, high blood pressure, or because of the type of work you do.
Educate yourself and get information to share with all the men in your life -- your sons, brothers, fathers, uncles, cousins, partners, and friends -- by signing up now at HealthCare.gov.
During National Men's Health Week, let's take control of our health-for the peace of mind and security that we and our families deserve.
There's no better Father's Day gift for the fathers and men - and women and children - who care for us.
Infographic: HHS.gov
Also of Interest

Join AARP: Savings, resources and news for your well-being
See the AARP home page for deals, savings tips, trivia and more