Ready for Winter? Stuff a 'Stay Bag' of Storm Supplies
By Candy Sagon , October 03, 2011 08:00 AM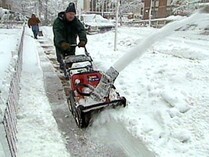 Don't wait until the store shelves have been wiped clean of bread, batteries, beer and milk to prepare for winter storms. Plan ahead now.
The New York Times had a helpful story last week about some handy, inexpensive gadgets and items to prepare for winter power outages and other severe problems.
The list was based on suggestions from three experts in disaster planning, including the author of a handbook on disaster preparedness for families and an official with FEMA, the government's emergency management agency.
The idea is to prepare a "stay bag" of storm supplies, assuming you have to stay where you are for the winter. Gathering them in an old backpack, or even in one handy location, means you won't be running around when the lights go off, trying to find what you need.
Obviously, a backup power generator would be an excellent thing to have, but not everyone has the $600 to $1,000 to buy one. If a generator is not in your budget, here are some suggestions to have on hand in case a power outage leaves you without heat, water or warm food:
LED lights: Instead of conventional flashlights for lights, consider buying LED flashlights and lamps. They use the same batteries, but last much longer for the same amount of light. (Avoid candles, if at all possible, because the fire hazard is too great.) The Times suggests eGear's 10-Day Lantern, around $35; flashlights for general use, like Energizer Industrial 2-LED, $9.50; and hands-free headlamps (Brinkmann 3-LED, two for $11) for reading and maintenance tasks. Solar-powered walkway lights are also a good idea -- they can charge in the sunshine during the day and then be used indoors at night.
Propane camping stove: If you don't have access to a propane grill to make food during a power outage, invest in a propane camping stove. Optimus Crux Lite sells for $40, and you could light it with waterproof matches or a propane lighter. Stock up on soups, stew and other foods that can be easily heated for meals.
Stockpile gas: If streets are impassable, you can use the car as a de facto generator -- just be sure and run the car outside the garage to avoid toxic carbon monoxide buildup. Stock up on gas with a Scepter 2.5-gallon can, $10.50. For safety's sake, don't store more than 25 gallons of gasoline, although some cities may impose lower limits. As winter approaches, make sure your car's gas tank is always at least half-full.
Car power converters: Power inverters convert electricity from your car into 120-volt AC power, including a three-pronged outlet. The Schumacher 140-watt model, about $20, can be plugged into your car's accessory port and used to power a laptop. Again, be sure the car is running outside of the garage to avoid dangerous carbon monoxide fumes.
Propane heaters: In a winter power outage, keeping warm is a priority. The Mr. Heater Portable Buddy, about $75, warms a medium-size room, but you need to use propane heaters very carefully to avoid carbon monoxide problems. Keep a window slightly open for ventilation and read the manual carefully before using the heater.
Insulation tape for pipes: To prevent pipes from freezing during the winter or if your house is unexpectedly without heat, keep faucets running at a trickle. If the pipes that run from the basement to the kitchen aren't insulated, wrap them in insulation tape to prevent them from freezing and bursting. Frost King insulation tape sells for $11 for 15 feet.
Store water in the bathtub: If you rely on well water or electric water pumps to shower, flush the toilet or provide water for cooking, a power outage can be a big problem. Before a big storm, fill the bathtub with water (make sure the plug is secure and doesn't leak) or get an AquaPodKit, $25, which is a bathtub-size bladder with a siphon that lets you easily get tub water for drinking, flushing and cleaning.
Battery-powered radio: For the news, weather updates, or even music to dine by -- a battery-powered radio is a good idea. Radio Shack sells a pocket radio for $15.
Photo credit: Perufirerescue.com