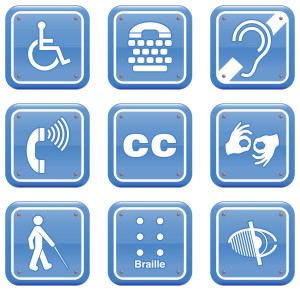 Summer travel often means staying in a hotel or motel room, or in a succession of hotels if you're on a tour. It can be a great luxury, but especially if you're moving from one place to another every few days, it can get confusing. I'm sure every one of us has left something in a hotel room: a converter plugged into the wall, your toothbrush, clothes hanging in a closet.

For those with a disability, it can also be frustrating and even dangerous. Fortunately the ADA has made hotel stays easier for everyone, including those with hearing loss..

In the United States, hotels, motels, inns, and other places of lodging are required to have a minimum number of rooms that are accessible to the deaf and hard of hearing. The one exception is a typical bed and breakfast—a building where the owner lives and has fewer than five rooms to let.

These rooms offer features such as hearing-aid compatible telephones that work with a telecoil, vibrating alarm clocks, visual wake-up calls and decoders for accessing closed captioning on television. (Why the TVs in hotels don't have automatic closed captions is beyond me.) You can also ask for visual and tactile alarm systems, as well as a visual indication that someone is knocking on the door.

It's important for anyone, but especially for those with hearing loss, to check where the fire exits are and to make sure you know how to get to them in the event of an emergency. A few years ago I was in a hotel in Copenhagen when the fire alarm went off. My family had all gone down to breakfast. The alarm did wake me, thankfully, but it took quite a while to find the stairs. Disaster was averted, but it was a powerful warning.

Hotels also have to provide assistive listening systems in meeting rooms, although they may claim it's the organization putting on the event that is responsible for the assistive listening system. Most hotel lobbies are very noisy, and hotels should also offer hearing assistance at the check-in and concierge desks. I haven't found this to be the case. And forget about having a drink with friends in that atrium bar – you won't hear a word.

You will help not only yourself but also others with hearing loss if you ask every hotel you go to about accommodations. The more requests a hotel gets, the more likely it is to install ample accessibility equipment.

Most of the major online travel sites allow you to specify that you need hearing accessible hotel rooms. On Hotel.com, Expedia, Travelocity, and other online sites, begin with the search information for your hotel—the area and the dates. Then when the list of hotels comes up, look at the left-hand panel, where you can choose from "Neighborhood," "Landmarks," and so on. Click on "Accessibility Features" and you'll get a menu of options, including "accessibility equipment for the deaf."

Unfortunately, from there you'll probably need to call the hotel. The travel sites will tell you if an accessible room is available for your dates, but usually will not specify what kind of accessibility equipment is available. A person with hearing loss won't benefit from a Braille telephone.

Get discounts on hearing aids with your AARP Member Advantage »

Recently I came upon a web site offering travel advice for people with hearing loss. It's called "Hearing Loss Friendly" and although it's British, it offers some suggestions any traveler with hearing loss can follow. It's also a visually beautiful web site, and may make you want to take your next vacation at one of their endorsed "hearing friendly" hotels and inns.

I'm headed off the annual Hearing Loss Association of America convention next week. The hotel looks beautiful — the old St. Louis train station converted into a hotel. It also looks like the lobby from hell for those of us with hearing loss. Hope they have looping at the check-in desk!

Graphic: Designalldone/iStock

Also of Interest

See the AARP home page for deals, savings tips, trivia and more.