Sandy's Damage Also Includes Health Dangers
By Candy Sagon, November 2, 2012 08:00 AM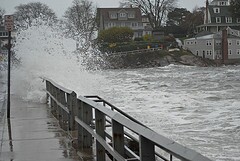 Contaminated water, questionable food and toxic mold are just some of the health problems left by Hurricane Sandy's trail of destruction along the East Coast.

Public health officials told National Public Radio that residents in areas devastated by the superstorm face several risks, not the least of which is polluted floodwater.

Water that filled people's basements and garages could contain a nasty mix of chemicals, pesticides, paint, gasoline and all the other things that people typically store in those areas, said an official with the New Jersey Department of Health.

And in areas where sewage-treatment plants were damaged by flooding or fires, the high water could contain bacteria that might make people sick - especially infants, the elderly and people who are already ill. Symptoms could include nausea, vomiting and diarrhea.

There's also the danger of food poisoning from eating food that has remained too long in warm refrigerators after the power went out, said Thomas Frieden, M.D., director of the Centers for Disease Control and Prevention (CDC).

He told NPR that's what happened in New York in 2003 after a long blackout. "We saw a significant increase in food-borne illness in the days after."

Also common after disasters: carbon monoxide poisoning, from failing to set up portable generators in well-ventilated areas.

Plus, once the waters recede, mold could start growing in a lot of damp homes, triggering asthma attacks and breathing problems.

Officials offer these tips for staying safe and healthy if you - or your loved ones - are in a storm-damaged area:

Avoid unsafe food. Food in the fridge stays cold and safe to eat for only about four to six hours without power. Food in the freezer is okay for 24 to 48 hours. After that, don't risk it. "If in doubt, throw it out," the CDC's Frieden said.
Protect yourself. Wear boots, gloves and goggles if you need to wade through flooded areas. Try to avoid having the water contact your skin. If it does, wash with soap and clean water as soon as possible.
Boil tap water for at least a minute if you think water supplies might be contaminated.
Get rid of soaked items and use dehumidifiers to keep mold from spreading in damp homes once the water has receded.
In other health news:

Nine more cases of meningitis. Reuters reports that nine more cases of deadly fungal meningitis were reported from an outbreak tied to steroid medications shipped by a Massachusetts company, bringing the national total to 377 cases, U.S. health officials said on Thursday.

Despite planning, floods render NYC hospitals powerless. There are few places in the U.S. where hospitals have put as much thought and money into disaster planning as New York, the Associated Press reports, yet two of the city's busiest, most important medical centers failed a fundamental test of readiness during Superstorm Sandy this week: They lost power. Their backup generators failed, or proved inadequate. Nearly 1,000 patients had to be evacuated.

Photo: Brian R. Birke via flickr