Saw Palmetto For Prostate? "Don't Waste Your Money," Study Author Says
By Candy Sagon , September 27, 2011 04:15 PM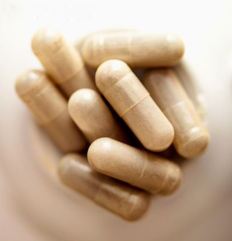 For older men seeking relief from urinary problems from an enlarged prostate, taking the popular supplement saw palmetto -- even at triple the usual dose -- is no better than taking a placebo, according to a large, new study published in the Journal of the American Medical Association.
The study, conducted by researchers at 11 hospitals across the U.S. and Canada, involved 369 men ages 45 and older.
Researchers studied whether gradually increasing the daily dose of saw palmetto extract over 72 weeks would improve lower urinary tract symptoms. Subjects started with the standard dose (320 mg.), then doubled it, and finally tripled it.
The result: Men reported slightly more improvement in their symptoms with the placebo -- an identical capsule filled with inactive ingredients -- than with saw palmetto. Doubling and tripling the supplement dose made no difference, the researchers wrote in the study.
"The bottom line of our study is don't waste your money on saw palmetto supplements for an enlarged prostate," said author Kevin McVary, M.D., a professor of urology at Northwestern University Feinberg School of Medicine. He called the study "the largest, most rigorous" research done on the widely sold supplement.
McVary said in an email that men instead should talk to their doctors "about prescription medications that relax (alpha blockers) or shrink (5 alpha reductasae inhibitors) the prostate so urine flows through more easily, or about laser surgery, the most common surgical approach."
On the other hand, said lead author Michael Barry, M.D., of Massachusetts General Hospital, conventional medications for urinary problems can have unpleasant side effects, and "even the highest doses of saw palmetto had no serious adverse effects."
"So while I would tell a patient interested in trying saw palmetto that I wouldn't object, I'd make sure he understood that, on average, it doesn't work any better than a placebo," Barry said in a press statement.
Plant extracts, like saw palmetto, are widely used in the U.S. and Europe for urination problems. Saw palmetto is an extract of the fruit of the saw palmetto dwarf palm tree.
An enlarged prostate affects about half of men at age 50 and three-quarters of men by age 80. For some men, the condition can cause problems with frequent or difficult urination.
The largest previous saw palmetto study involved 225 men over age 50 taking a 160 mg. dose twice a day for one year. It also found that the extract was no better than a placebo at relieving symptoms.
The current study, funded in part by the National Institutes of Health, was designed to see whether longer treatment with higher doses would give better results.
Photo credit: Doulaville.com