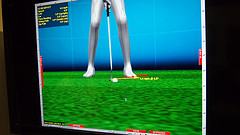 Scrolling through Twitter the other night, I stumbled came across a great story by Golf Digest senior editor Stina Sternberg about an 85-year-old Ohio woman who got fitted for a new set of golf clubs.

What caught my eye is that Pauline Whitacre says she "shoots her age or better on a regular basis."

Wow.

Pauline has always had game. She was shooting in the 70s as a teenager. She has won multiple Ohio State Amateur and state Senior Amateur Championships. But she wasn't happy that her handicap had "ballooned" recently to a 13.5. Pauline's daughter suggested getting fitted for a new set of clubs to see if that might help her score better, but Pauline wasn't so sure the clubs would make a difference. As she told Golf Digest Woman Blog:

"I'm really not that into equipment," Whitacre said before her fitting. "Some of my friends get new clubs every year, but I think mine are about 10 years old, except for the driver, which I got for my 80th birthday."

But, lo and behold, since getting her new sticks, Pauline's striping the ball and flirting with breaking 80 again.

You go girl.

Like Pauline, I want to remain competitive in golf as long as I can. I took up golf about 15 years ago, roughly one year after meeting a guy who loved the game. I put down my tennis racquets for good and got hooked. Golf will humble you, it will wreak havoc on your nerves and it will give you a lifetime of stories and friends.

Right now, if I shoot my age for nine holes, I'm thrilled. Like buying drinks thrilled. If I have any prayer of shooting within 10 shots of my age in my 80s, I will be a very happy woman. I just hope I won't be giving my husband any strokes.

Photo by Stevegarfield via Flickr.