Prepare for 'Worst Allergy Season' in Years
By Candy Sagon, May 4, 2015 07:00 AM
First we suffer through a long, record-setting winter, and now we find out it's going to be a long, record-setting allergy season.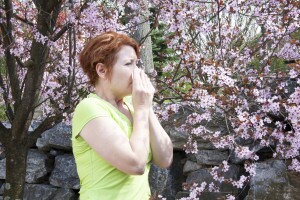 May is National Asthma and Allergy Awareness Month — as if you couldn't tell by all the sneezing and wheezing — and Tao Zheng, M.D., chief of the allergy and immunology section at the Yale University School of Medicine, predicts this allergy season "may be one of the worst in years," she told Yale News.

Why? A long, wet winter — such as the one we just endured — can cause plants to produce more pollen. And then there's climate warming, which also creates a longer, more severe pollen season. A very hot summer, for example, can result in a stronger pollen season the following spring, especially for grass and tree pollen, New York allergist Clifford Bassett told weather.com.

Are your allergies worse this year? What do you do for them? — AARP Community »

An estimated 45 million Americans have the congested nose, inflamed sinuses, itchy eyes and sneezing associated with seasonal allergies, according to the Asthma and Allergy Foundation of America (AAFA).

What makes it worse is that pollen season is starting earlier — about two weeks earlier than 20 years ago, said Mike Tringale, AAFA senior vice president. "Older Americans will remember that peak tree-pollen season used to be late April every year, but now high pollen counts nationwide are being recorded in many places as early as the first week of March, thanks to global climate change," he told AARP.

The warming climate is causing plants to grow in a wider territory and with bigger leaves and branches, thus producing more pollen than ever before — "double-trouble for people with seasonal allergies," Tringale said.

Get discounts on prescriptions, health exams, eye care and more — AARP Member Advantages »

If you live in the Southeast, you'll have the toughest time this season. Each year AAFA names the nation's allergy capitals — cities that are "the most challenging places to live with allergies" — and this year's top five are Jackson, Miss.; Louisville, Ky.; Oklahoma City; Memphis, Tenn.; and Knoxville, Tenn.

For those with serious grass-pollen or ragweed allergies, the Food and Drug Administration last year approved once-daily tablets that can help sufferers build up a tolerance to those common allergens. Both Oralair and Ragwitek dissolve under the tongue and can be taken at home after receiving the first dose in a doctor's office. They work best, however, if patients start them four months before pollen season starts.

Here are some other things you can do to minimize your exposure to pollen.

Keep track of pollen counts in your area. When levels are high, try to stay indoors as much as possible. Online sites that track pollen counts include Pollen.com and Allergy Tracker on weather.com.

Don't be a morning person. Pollen counts are highest between 5 and 10 a.m., so schedule outdoor activities for "noon or later," says AAFA's Tringale.

Close windows; check filters. Keep the outdoors outdoors. Make sure your home and car windows are closed. Also, check home air-conditioning and air purifier filters and replace them if they're clogged and dirty. With air conditioning on and the windows closed, you can reduce indoor pollen exposure by 90 percent, according to the Cleveland Clinic.

Get the latest tips on staying healthy — AARP Health Newsletter »

Shake it off. Like that catchy Taylor Swift song, shake (or brush) off pollen from your clothes and your pet before entering your house, especially if you've been outside for a while. Experts recommend going a step further and changing your clothes to keep pollen from being tracked throughout the house. Wash your hands and face for the same reason, and wear a hat to keep pollen off your hair.

Keep it short. Your grass, that is. And think about having someone else mow it, if you're highly allergic.

Photo: karenfoleyphotography/iStock

Also of Interest



See the AARP home page for deals, savings tips, trivia and more.