Spinach Recall (Yes, Again) Hits 39 States
By Candy Sagon , February 20, 2013 08:00 AM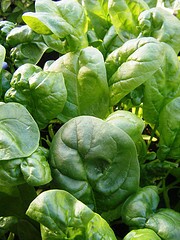 Taylor Farms has announced it is voluntarily recalling its organic baby spinach products in 39 states because of possible E. coli contamination. The company says it took the action "out of an abundance of caution."
This is the third time in as many years that the company has recalled spinach products due to suspected contamination.
The currently recalled products had "the potential to be contaminated with Enterohaemorrhagic Escherichia coli (EHEC)," the company announced in a statement. This bacteria can cause severe infection, vomiting, diarrhea and sometimes kidney failure. Children, the elderly and those with compromised immune systems are at particular risk.
The products were sold in five-ounce and 16-ounce containers under these brand names: Central Market Organics, Full Circle Organic, Marketside Organic, Simple Truth Organic and Taylor Farms Organic. All the recalled spinach has a "best by" date of February 24, 2013, Taylor Farms said.
The 39 states in which the products were sold are Alabama, Alaska, Arizona, Arkansas, California, Colorado, Delaware, Florida, Georgia, Hawaii, Idaho, Illinois, Indiana, Iowa, Kansas, Kentucky, Louisiana, Maryland, Minnesota, Mississippi, Missouri, Montana, Nebraska, Nevada, New Jersey, New Mexico, New York, North Carolina, Oklahoma, Oregon, Pennsylvania, South Carolina, Tennessee, Texas, Utah, Virginia, Washington, Wisconsin and Wyoming.
For a complete list from the company Web site of the products, brand names, UPC codes and states in which they are sold, click here.
Although the company knows of no one who has gotten sick, consumers who have this spinach should not eat it, but throw it away, the company advises.
Taylor Farms has had food safety problems in the past, the Huffington Post reported. Last year the company voluntarily recalled its organic baby spinach after a test by the U.S. Department of Agriculture found potential salmonella contamination. And in 2011 it was forced to recall 3,200 bags of salad greens, also because of potential salmonella contamination, after an inspector with the Washington Department of Agriculture conducted a random test on a bag of spinach.
Photo: dogteaknit /flickr