Stroke Drugs Vs. Stents: An Issue For Medicare
By Candy Sagon , September 24, 2012 08:00 AM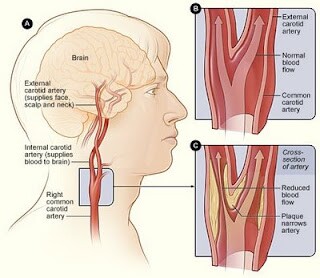 There's a debate growing among doctors over whether drugs are just as good - or better - at preventing strokes as carotid surgery or carotid stents to keep neck arteries free from plaque.
The issue has major implications for Medicare, the Wall Street Journal reported last week, because a number of stent manufacturers are pushing Medicare to pay for carotid stent placement in people with no stroke symptoms.
This would greatly expand stent use because an estimated 100,000 or more patients would be potential candidates for it, the Journal said.
Meanwhile, 38 leading doctors in vascular medicine have written an open letter to Medicare and urged the program not to expand coverage for carotid stents, according to the newspaper. They warned in the letter that evidence for surgery and stents "is outdated."

"The great majority of patients won't get a benefit from stents or surgery," Australian neurologist Anne Abbott told the Wall Street Journal.

Abbott, of the Baker IDI Heart and Diabetes Institute in Melbourne, has been critical of the high rates of carotid surgery and stents in people who haven't had mini-strokes or temporary stroke symptoms. About 125,000 Americans now get carotid surgery or carotid stents each year.
While surgery is appropriate for those with stroke symptoms, anti-clotting drugs like Plavix, as well as blood pressure medications and cholesterol drugs are just as effective in those without symptoms, Abbott's research has found.
She and other doctors also pointed out that surgical costs - an estimated $21,000 for an operation to clean plaque from the carotid artery and $33,500 to insert a stent - are much higher than drug therapy.
But other doctors disagree. Stent proponent Mark Wholey, M.D., of Highmark Allegheny General Hospital in Pittsburgh, said studies show carotid surgery and stents are equally effective. "To be denied the option of either surgery or stenting is unreasonable," he told the Journal.
And even some critics of the push for surgery or stents said there is a subset of people without symptoms who may have micro-clots in their bloodstream, indicating they are at higher risk for stroke. For them, the Journal explained, surgery may be more effective.
In other health news:
Trader Joe's peanut butter recalled for salmonella risk. NBCnews.com reports that federal health officials are warning consumers not to eat Trader Joe's Valencia Creamy Salted Peanut Butter after the product was linked to salmonella infections that have sickened 29 people in 18 states. Four people have been hospitalized. Trader Joe's has pulled the product from its shelves nationwide, but for those who may have already purchased the product, it is especially important that children under age 5, older adults and people with weak immune systems avoid eating it.
Trampolines unsafe for kids. The American Academy of Pediatrics warned that trampolines are too dangerous for children, USA Today reports. The pediatricians cited nearly 100,000 injuries in 2009 and noted that the safety nets added in recent years don't make much of a difference.
Photo: Courtesy National Heart, Lung and Blood Institute